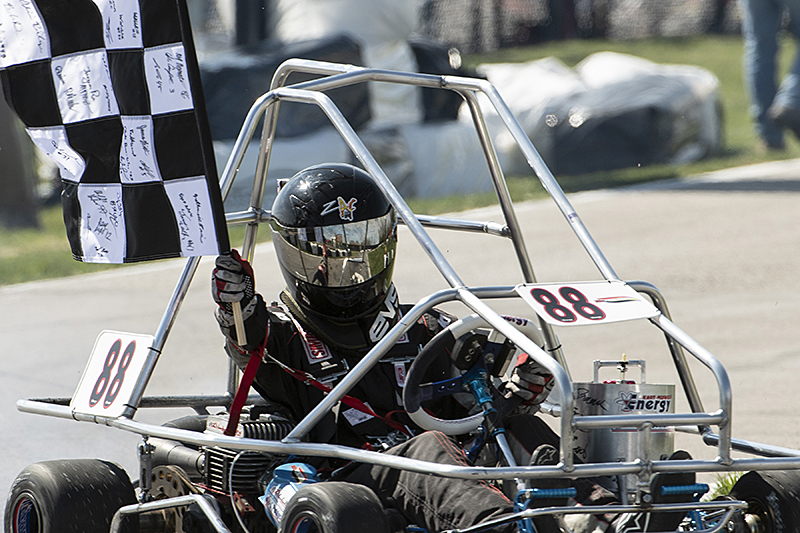 Student Feature
Harrison Hall Racing Team Wins Purdue Grand Prix
First-year student Jacob Peddycord, a resident of Harrison Hall, won the 64th running of the Purdue Grand Prix, held on Sunday, April 25.
Peddycord, a native of Westfield, Indiana completed the 160-lap, 60-mile race in one hour, 13 minutes to top a field of 32 student drivers. The annual race is sponsored by the Purdue Grand Prix Foundation, which raises more than $10,000 annually to award in scholarships.
Peddycord's interest in racing grew from watching Formula One with his father and going to the race track with his father and grandfather to watch Formula One and Indy Car races. When the opportunity to drive with the BMW Car Club on the track at New Castle Motorsports Park arose, Peddycord seized the opportunity and started putting in the work to begin his racing career. He has been racing for three years.
"I went out there and was a second faster than everyone else," Peddycord says. "After that, I worked my butt off to make connections and try to figure out who I wanted to race with. I spent a month or two calling people, arranging times to meet them at the track and I'd go out to races and meet teams. I eventually found one that fit my budget. I worked two jobs to earn the money to pay for it."
With his interest in racing, it was natural that Peddycord would be interested in competing in the Purdue Grand Prix and he found his opportunity through Harrison Hall. After attending a Cavalier Club meeting, he was made director of the hall's racing team. His task was a tall one – to revive a racing team that hadn't participated in the Grand Prix in three years. Peddycord put up flyers and interviewed students in the hall to gauge interest as he assembled the team.
Just getting access to the racing shop took until late in the fall semester. There was a lot of cleanup work to do in the shop – Peddycord estimates that he and the racing team spent more than 30 hours getting it ready – and they still needed to find a kart to race. Fortunately, Peddycord was able to connect with Jimmy Simpson, a racing driver from Indianapolis and four-time winner of the Purdue Grand Prix, to procure a kart. Facilitating the loan of the kart took another eight weeks and approval of the paperwork came down to the final deadline.
"At that point, I was sweating bullets because we got it done just before tech inspection," Peddycord says. "If we hadn't gotten that done we couldn't have passed."
There were many late nights spent getting the kart ready for practice, qualifying, and ultimately, race day. The team practiced pit stops in the basement of Harrison Hall, with each team member taking turns performing different duties to find the best fit. Conversations with experienced drivers led to the selection of the appropriate tires. The team also had to overcome two blown clutches at various points leading up to the race.  
"The first two or three practices were just working out the kinks of the track and the kart, then getting all of the mechanical gremlins out of the way," Peddycord says. "We really only got to try new lines on the track once because we blew another clutch right before qualifying – but that just means we'll have more to try for next year."
The Harrison team, known as Cavalry Racing, earned the top qualifying time and started the race from the pole position. Another driver raced out to an early lead, but Peddycord stayed patient, knowing that the pace he had set would close the gap.  
"I caught up to her fairly quickly because I had more pace than her, but I sat behind her and would have been perfectly fine waiting the whole race until the last couple laps," Peddycord says. "Eventually, she left the door wide open going into turn two and I just slid by on the inside and took first. After that, I tried to keep an even pace. I knew we had the pace because our team led at every practice. It's just about taking it cautiously, surviving it and then, when you can, keep a good pace so that you give yourself time to work your way through traffic again."
Peddycord led the final 153 laps, including when the team took its only pit stop. Winning, Peddycord says, produced a mix of emotions.
"It was almost more of a relief because, as soon as we led after the first practice, all I was hearing from my team all month was 'you better win this,'" Peddycord says with a laugh. "They put in so much work. There were so many late nights we were working on the kart and would be in the shop until two in the morning working on stuff. It was nice that I could do that for them because of all the work they had to put in."
Cavalry Racing included:
Jacob Peddycord, Director and Driver
Arjun Subramaniam – Crew Chief
David Seitz – Technical Director
Zach Lafeer – Relief Driver and Crew Member
Caleb Leinheiser – Crew Member
Jason Proffitt – Crew Member
Eli Moody – Crew Member
Nathan Brown – Crew Member
The team also wishes to thank Harrison Hall, Jimmy Simpson Racing and Blue Horseshoe for their support.