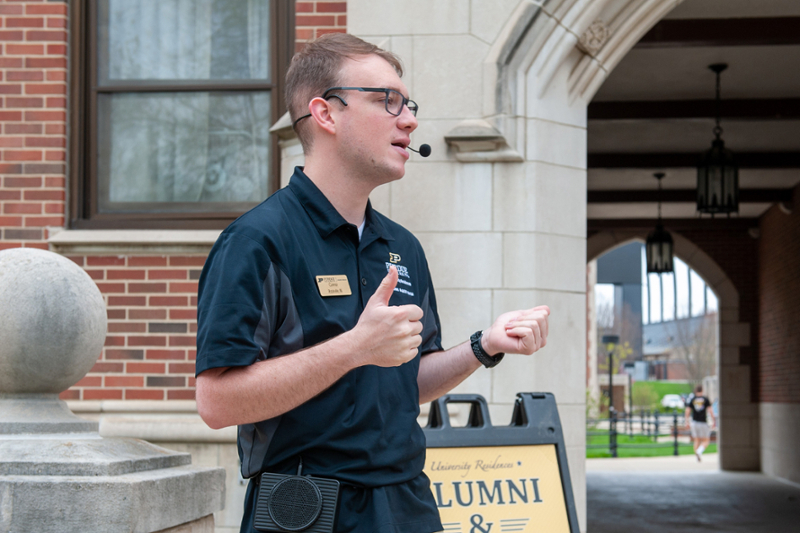 UR Conductors 
All UR Conductors lead guided tours of University Residences communities and dining locations.  This small, prestigious team of students receives valuable opportunities to build relationships, educate guests and make a difference in the lives of alumni and prospective students. 
Compensation
Hours/Week 
Weekly average, 8-10 hours per week

Required hours may include days, evening and weekends
Prerequisite
Candidates must have at least one semester of experience living in University Residences, 2.5 GPA, and maintain good standing with Purdue University and University Residences. 
Qualifications 
High school diploma or equivalent and a minimum of one semester of college coursework successfully completed
Must be actively enrolled at Purdue University
Previous work experience within University Residences or Dining & Culinary preferred
Strong interpersonal and communication skills, both verbal and written
Strong public speaking and storytelling skills
Flexible and dependable with strong attention to detail
Problem solving, logic and reasoning skills
Customer service oriented
Ability to multi-task and work within deadlines
Ability to work independently and with a team
Be timely and organized
Position Responsibilities 
Exhibit friendliness, diplomacy, and tact in responding to all guests' needs
Handle emergency situations and prioritize responsibilities while providing the highest level of customer service
Maintain confidentiality and exhibit professional conduct when handling sensitive information
Serve and participate on committees within the department
Present ideas to departmental leadership as identified
Participate on committees related to training, scheduling, marketing, data analysis, employee recognition and alumni relations projects
Responsible for all scheduled shifts (based on class/exam schedules for the semester)
Must attend all scheduled staff meetings and training(s) to gain and/or share pertinent information
Be willing and able to drive university vehicles when necessary
Maintain high standard of cleanliness throughout the facility
Maintain safety and risk management standards of the department
Perform daily upkeep of supplies throughout the facility
Assist the Senior Engagement Specialist with facility set up and tear down
Other duties as assigned