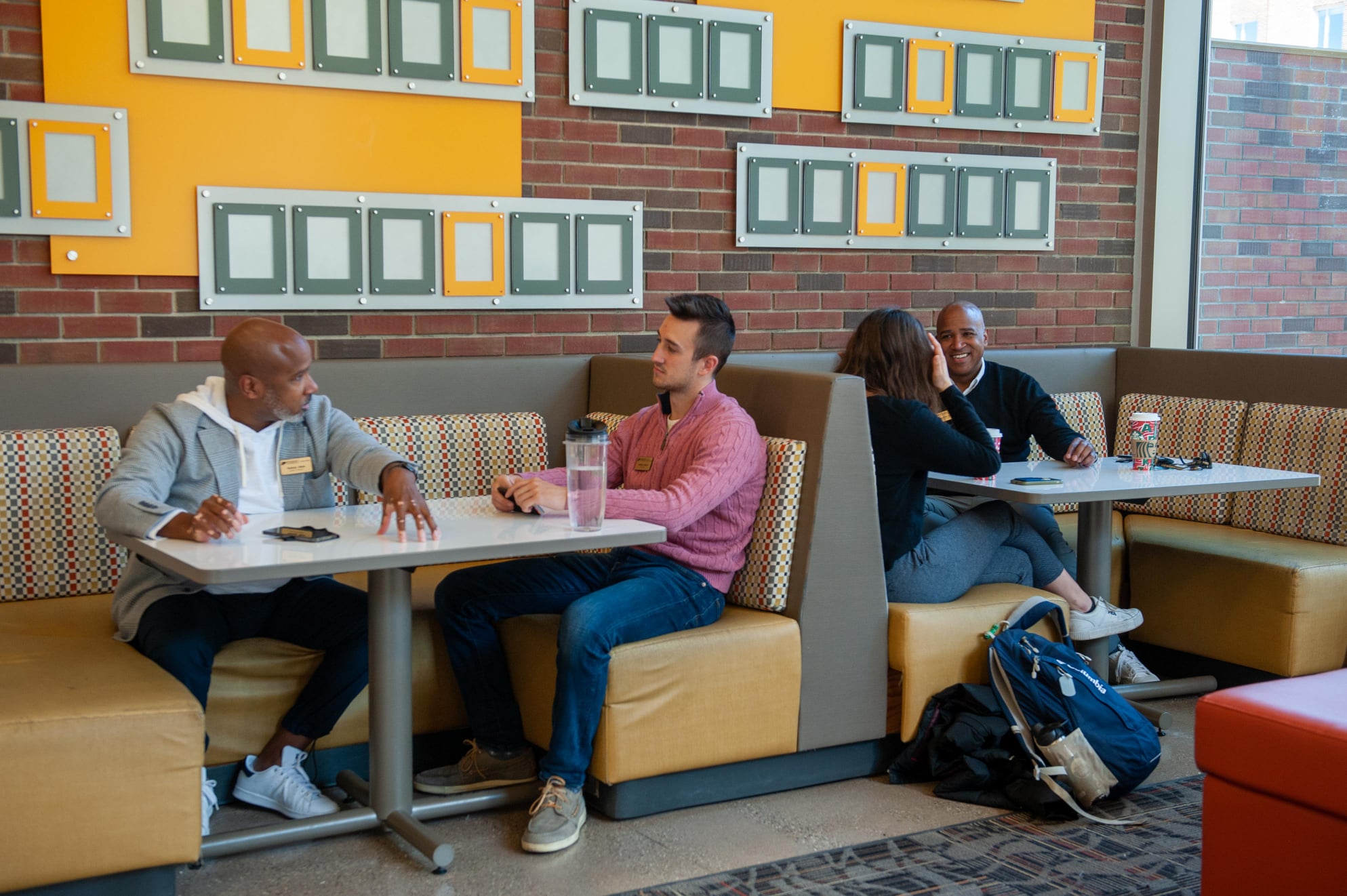 Rodney and Rodrick Glass became the first brothers to serve as Executives-in-Residence during their visit to campus, which took place November 4-9. 
Rodney is the chief operating officer and senior vice president at HID Global, a manufacturer of security and identification products, such as smart cards and readers based on radio frequency identification (RFID). As a student, he served as a residence hall counselor and staff resident in Cary Quad, president of the student body, was an active member of Purdue Student Government and Kappa Alpha Psi, and sat on the Board of Trustees to work with the Office of the Dean of Students. He graduated with a Bachelor of Science in Organizational Leadership and Supervision in 1992. 
Rodrick earned a Bachelor of Science in Organizational Leadership and Supervision in 1992 and later completed a Master of Science in Industrial Distribution in 1994. He was active in the residence hall community as a student, serving as a residence hall counselor in Harrison Hall and staff resident in Cary Quadrangle. He also served as vice president of Purdue Student Government and president of The Society of Minority Managers. He currently serves as the executive vice president of sales and business development at Creative Realities, Inc., a digital marketing company that specializes in digital signage.  
Rodrick recalls that his father, then a drill sergeant, was responsible for their introduction to student employment and ultimately, the gateway to their leadership development on campus. The Glass brothers enrolled at Purdue in the fall of 1988 with a directive to find jobs on campus. Rodney and Rodrick hadn't fulfilled that responsibility when their father showed up at their room early one Saturday morning for a surprise visit. 
"We got dressed, went downstairs and went through the cafeteria," Rodrick recalls. "We were all sitting together and my dad asked us if we'd found jobs yet – and, of course, we hadn't been looking. All of a sudden, the head of food service for the dining hall walks by and my dad asks her if they could use any people to help. She said they could and my dad turns to us and says, "Look at that! I found you guys' jobs!'" 
The position kicked off the work experiences of Rodney and Rodrick in the residence hall system. They later became head waiters and were asked to apply for residence hall counselor positions. Rodney and Rodrick each lived in residence halls for the duration of their time at Purdue.   
"The reason why living in a hall was so beneficial and worked was that we really met some great folks that we immediately meshed with," Rodrick says. "These were folks from all different walks of life, from different countries and backgrounds, but the environment just gave you a sense of home away from home." 
Rodrick says that experiences as a residence hall counselor, staff resident and member of the food service staff provided a strong foundation for his future leadership pursuits.  
"As I look back, my management and leadership style was honed in quite a bit while I was working here," Rodrick says. "Working here allowed us the ability to learn how to collaborate and develop our leadership styles, especially as we became leaders in different capacities." 
Receiving the vote of confidence from a trusted mentor, such as Eileen Strater, then a food service manager, encouraged Rodrick to pursue the other leadership roles he attained on campus.  
"I think that affirmation was so important," Rodrick says. "Hearing that someone thinks you can lead and manage this group of 10 to 15 people that are part of this shift and do it effectively gave me the confidence to go do some of these other things and be a good leader in other organizations. The initial training and affirmation gave me a positive attitude that I could potentially go do these other things, and that started here." 
Rodrick notes that the ability to collaborate, measure his own strengths, understand the strengths of others gauge employee temperament and build effective relationships were skills he began to build as a residence hall counselor. 
"Understanding what your strengths and weaknesses are and where you can improve, and then being able to identify that in others, is specifically important if you're going to be a leader," Rodrick says.   
While on campus, Rodney and Rodrick met with various student groups, including members of learning communities, resident assistants, members of the Business Opportunity Program (of which the Glass members are proud alumni), Purdue Student Government and UR Global. Rodrick additionally participated in a Men's and Women's Leadership Series event, and the brothers also met with students one-on-one in Coffee & Consulting sessions to share advice with students.   
"I was so impressed with how thoughtful, prepared and inquisitive all of the students I was able to interact with were," Rodrick says. "They came with copious notes about things I've done and were ready to ask me specific questions. I should say I'm impressed, even though I do expect that from a Purdue student, and it does give me a lot of pride to see that."