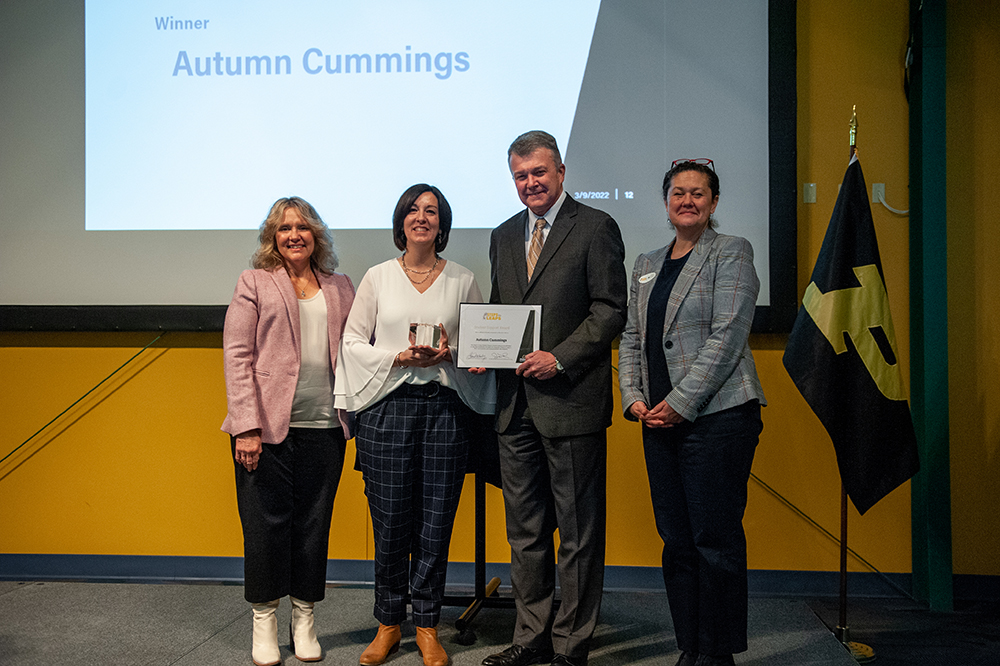 Autumn Cummings, assistant director of advocacy and training for University Residences, was recognized with the inaugural Steps to Leaps Student Support Award, presented at the Steps to Leaps Summit held March 7 at Beck Agricultural Center.  
The Steps to Leaps awards were created to honor faculty, staff and students whose work embodies the five pillars of Steps to Leaps – leadership and development, well-being, impact, network building and grit. Steps to Leaps is a collaborative, campus-wide effort to foster lifelong habits and promote a growth mindset in these pillars. Steps to Leaps was created by students for students under the auspices of the Office of the Provost and is aligned with long-term university goals under the Provost Road Map for Transformative Undergraduate Education. The Steps to Leaps Student Support Award, presented to Cummings, is given to an individual or unit that consistently leverages the language of Steps to Leaps in their conversations and communication with students.  
Cummings' work directly supports the well-being pillar by connecting students with well-being resources. Cummings has led a University Residences initiative to create resource cards for students who are working through concerns related to anxiety, depression, eating disorders and addiction/substance use. Developed in conjunction with Counseling and Psychological Services (CAPS), these resource cards utilize Steps to Leaps language while providing tangible steps for students to improve their well-being and develop networks of support. Cummings frequently connects with students of concern, works to understand their experiences and directs them to appropriate campus resources.  
"We talk about self-compassion and healing through relationships as a draw to Steps to Leaps," Cumming says.  
Her colleagues note the positive impact Cummings' focus has on students. 
"By utilizing the Steps to Leaps pillars, Autumn has become one of the most student-centered professionals with whom I've had the opportunity to collaborate," her nominator wrote. 
Cummings also serves in the role of conduct hearing officer, where she works to balance accountability with learning opportunities for students. In these cases, colleagues say Cummings works to reframe an often disciplinary-focused process into one of change and impact for students.  
"Autumn has been a champion at helping students reflect on the impact their decisions have on their future and on our campus," a nominator wrote. "Asking questions that help students align their actions with their personal values encourages our students to consider the impact a Boilermaker can make." 
A 2002 graduate of Purdue's hospitality and tourism management program, Cummings has served the university professionally for nearly eight years. She previously held several roles with Dining & Culinary, including serving as interim associate director of Retail Dining, manager of continuous improvement and as a multi-unit manager. While with Dining, Cummings contributed to the professional development of more than 500 staff members by administering trainings in areas such as Title IX, compliance, student advocacy, ServSafe and AllerTrain. She transitioned into her role with University Residences about two years ago.  
"Autumn has helped many students work through difficult situations to find positive outcomes," a nominator wrote. "She lives the Steps to Leaps pillars by considering the well-being of others, investing in the development of leaders, helping students build their networks and guiding everyone (including myself) to consider their impact on campus." 
To commemorate the Steps to Leaps honor, Cummings received a plaque and a monetary award.