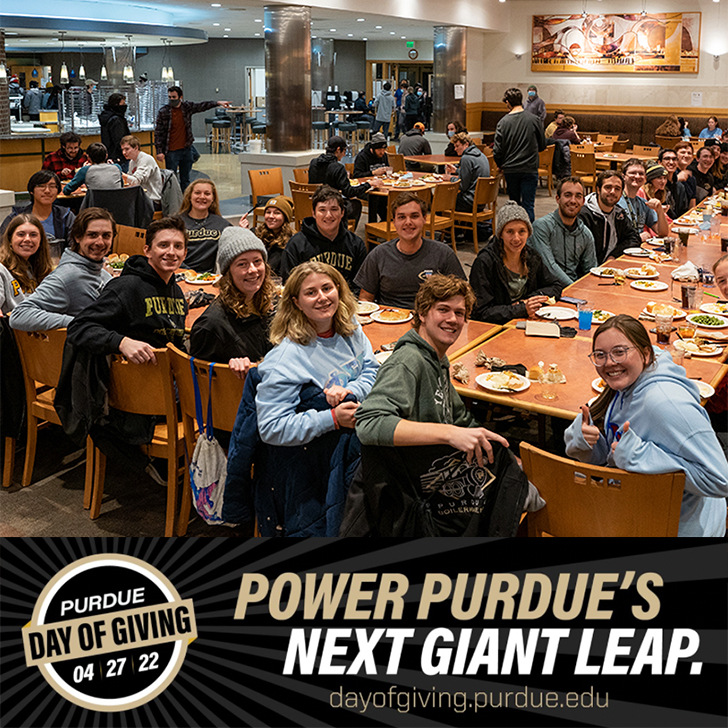 Purdue Day of Giving, scheduled for Wednesday, April 27, is an opportunity to impact the more than 14,000 Boilermakers who call University Residences home. University Residences and Dining & Culinary ensure this campus home is more than just a place to eat and sleep through student employment opportunities, leadership retreats, clubs, programs and more that help Purdue students develop treasured relationships and grow personally and professionally.  
This 24-hour social media blitz helps raise funds to support the numerous employment opportunities, clubs, programs, learning communities and retreats that serve as catalysts for students to take small steps of personal and professional growth that will one day lead to the giant leaps they will make to impact the world.  
Donations can be directed towards: 
The Sarah Johnson Outstanding Student Employee of the Year Fund. This fund rewards an exemplary Dining & Culinary student employee and honors the legacy of Sarah Johnson's 37 years of dedicated service to Purdue. Dining & Culinary is close to realizing its goal of raising $25,000 to endow the fund, which would allow the organization to annually award an outstanding student in perpetuity. 

 

Men's Leadership Series

and

Women's Leadership Series

, two elite leadership experiences for students living within University Residences. Since its inception in 2010, the women's series has provided

learning opportunities

for more than 1,000 women. The men's series has been providing

similar opportunities

since 2017.

The

Executive-in-Residence program

, which provides opportunities for students to make one-on-one connections with

successful alumni

. In addition to individual and group mentorship opportunities, the program is supported by a group of

student ambassadors

. 

 

R

AIS

E Awards

, which help defray the cost of tuition for resident assistants. 

 

Hal

l clubs

, which govern and support students living in residence halls and provide leadership opportunities for senators,

club executive board members

and more. 

 

Dining & Culinary's Staff Professional Development Fund. This fund provides opportunities for professional staff to develop leadership skills,

learn new culinary skills

and more. 

 

Dining & Culinary's Student Success Annual Fund, which supplements many awards offered by the department.

Awards

made possible through the fund include the Above and Beyond the Call of Duty Award, First-Year Student Success Award and National Student Employee Association Student Employee of the Year.

Any other area a donor wishes. 

 
Donations can be made at dayofgiving.purdue.edu on April 27.   
If you are unable to support University Residences or Dining & Culinary financially, we invite you to share memories of your experiences on Facebook, Twitter or Instagram or participate in social media challenges. Whether it's a photo of one of your hall club memories, or a picture of your pet or kids in Purdue gear, we would love to see your Purdue pride! University Residences and Dining & Culinary will be participating in the following challenges:  
10 a.m. – 50

th

original Tweet. 

 

11 a.m. – Most unique photo with Purdue Day of Giving logo.

 

12 p.m. – Most creative Purdue selfie. 

 

3 p.m. – Post an Instagram video of yourself or you and your friends singing "Hail Purdue!"

 

7 p.m. – Most creative picture of your kids in Purdue Gear on Twitter or Instagram.

8 p.m. – Most creative picture of your pets in Purdue Gear on Twitter or Instagram. 

 
To submit a photo in a challenge or share your memories, use the hashtags #PurdueDayofGiving and #PurdueUR for University Residences or #PurdueDining for Dining & Culinary.  
Please follow University Residences on Facebook, Twitter or Instagram, and Dining & Culinary on Facebook, Twitter or Instagram for more information on challenges.