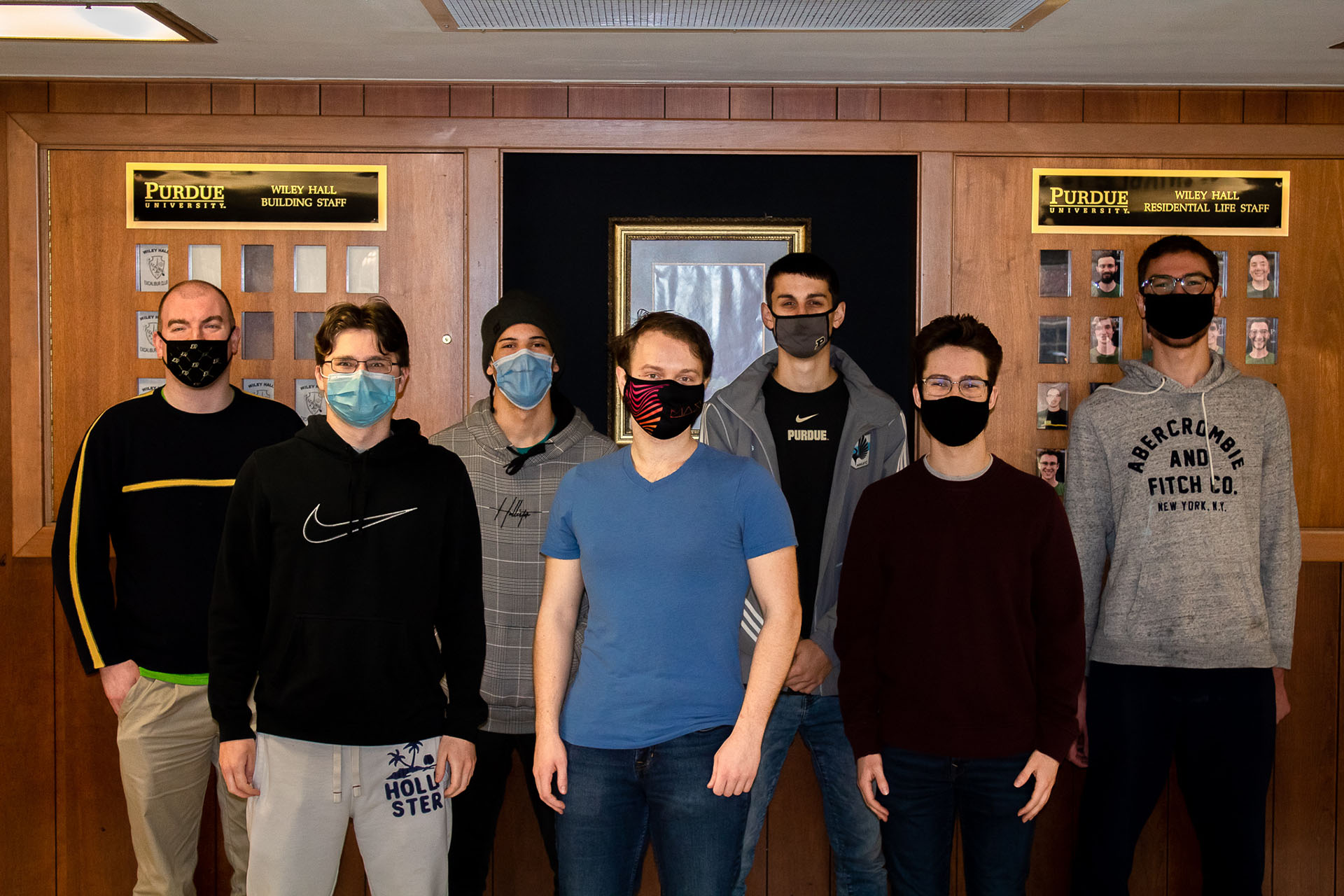 Torin Vandervort became the president of Excalibur Club, the hall club of Wiley Hall, mostly by chance. Vandervort wandered into a club meeting and ended up becoming a Residence Hall Association senator during his freshman year. At the end of the year, he ran for the president position of the club unopposed and assumed the role in Fall 2020. Now, his duties as president are a significant part of his life on campus. 
"I spend more time doing this than any of my classes and it's honestly more difficult," says Vandervort, a sophomore studying visual communications design. "I enjoy the fact that you learn so many life skills that you wouldn't normally learn, many of them involving money."
Vandervort was home-schooled growing up and, as a result, hadn't had many opportunities to serve in leadership roles among his peers prior to serving as president of the club. He says the role has been beneficial to his presenting skills and social development.
"That's been a huge plus because I've had to cold-call people all the time when I need to buy things," Vandervort says. "I have to present at nearly every meeting, but I'd say presentation is different than trying to be able to engage with residents casually and on the spot. Interacting with RAs and the rest of the service staff on a professional level gives me a good idea about team management and leadership." 
Navigating one's first leadership experience can be challenging for anyone, but the COVID-19 pandemic has brought even more challenges to Vandervort's role. The pandemic has had a significant impact with student participation in organizations and leadership roles across the university, with many students opting to focus solely on classwork rather than taking on additional responsibilities as they adapt to situations they haven't experienced before. This has left Vandervort without a full executive board or complement of hall senators. As a result, he's had to take on additional duties that would often be delegated to other hall club leaders. In addition to his hall club duties, Vandervort has a busy class schedule with 18 credit hours this semester.
"My primary challenge has been trying to do the things that make the hall club function," says Vandervort. "I also want to give a lot of credit to our resident assistants in Wiley, who have done an outstanding job of managing their duties while dealing with new information on a week-to-week basis. I've tried to work with them more on an individual basis so they can still hold some of the activities they're used to having."
In spite of the challenges, Vandervort has adapted to the changing circumstances to hold events and give Wiley residents a chance to enjoy themselves. He has focused on holding safe events that involve food, which he says residents seem to enjoy, including a socially distanced trick-or-treating event that involved delivering candy through pipes. Vandervort is also focusing on using the hall club budget to purchase equipment for residents to use, including jerseys for intramural sports, a professional volleyball setup and various tech items.  
"I don't know if I'm going to be running for the presidency next year, but either way, my goal is to have the hall club set up with enough equipment and make sure all of our tech items are up to date," Vandervort says. "Leaving the club in a good position for the next semester is my goal."
It's clear through Vandervort's actions and involvement in other campus organizations that it is important that he leads with an eye on inclusivity. He registered Excalibur Club as a diverse student organization, the only residence hall club to do so. As a result, he was invited to be part of the Diverse Student Organizations Council, for whom he serves as treasurer. Vandervort has also worked with the Purdue LGBTQ Center, the Purdue Asian American and Asian Resource and Cultural Center and is a member of the Period Project, a campus group that promotes menstrual health through education and fundraising. Each of these organizations are dedicated to creating a more inviting campus experience for students of all backgrounds.
"The thing that sticks out to me is that it takes such little effort to make things better," says Vandervort. "I think there's more that we need to be doing and that we need to be thinking about these things more on a day-to-day level."
Vandervort says that he can see how his experiences may impact his career goal, which is to work as a graphics designer. Oftentimes, designers will work concurrently with their teams in various programs. 
"It's becoming more of something that you do as a team," says Vandervort. "It's becoming so easy to toss things back and forth. I could be working in Illustrator, InDesign or Photoshop and passing things back and forth while the team is working with me at the same time in the same programs. I think being able to talk to people, meet deadlines and get through the balancing act of this semester is going to be help."
Like many students, Vandervort says he is looking forward to campus life returning to a state that is closer to normal next semester – which will allow more students to experience the full benefits of living on campus.
"I think it's a good experience to live on campus for at least the first two semesters at Purdue because you meet so many people and make so many friends," says Vandervort. "Normally, there are so many things happening. We can walk outside and there will be some kind of fair happening on the Krach lawn. It's an experience that I think is really worthwhile."