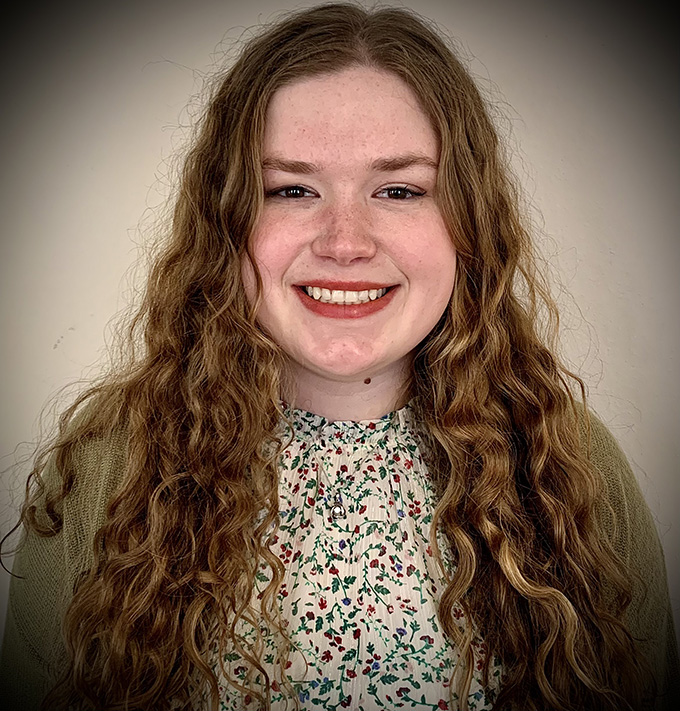 When Sydney Decker was looking for a new job after her freshman year, she wanted to find a position related to her field of study. Decker has found what she was looking for in positions she has held in the Employee Success division of Purdue Dining & Culinary.
Decker, who is pursuing a degree in general management from the Krannert School of Management with minors in human resources and psychology, says the positions she has held have offered her valuable experience that she wouldn't have gotten in a classroom.
"I feel like I don't get a lot of hands-on experience in my classes and I'm kind of just reading from a book a lot of the time," says Decker. "Having a job on campus where I can actually apply those skills is really awesome."
As a training development associate, Decker's initial work revolved around record keeping and other clerical duties. As she gained experience, Decker began to create her own training material and present it to students and full-time staff. She now serves as the Training and Development Manager for Employee Success.
In her current role, Decker works to ensure full-time employees are current on food safety, allergy and other compliance tests and training such as ServSafe and OSHA Blood Born Pathogens. Though she has shifted to working remotely during the pandemic, Decker continues to deliver trainings and work on long-term projects in addition to supervising a student associate.  
"This role has taught me a lot about flexibility and adaptability," says Decker. "I'm usually stuck in my ways and like everything to go as planned. I've been through a lot of changes in the last three years and being able to go with the flow, ask a lot of questions and keep up with changes are going to be huge in my future life."
An important part of Decker's experience has been the mentorship she received from the late Amanda Adams, who passed away in December 2020. Adams served as Decker's supervisor.
"She was the best supervisor I've ever had and I'm really going to value the mentorship she gave me for life," says Decker. "She cared about me as a person and was constantly asking about how I was, how school was going and being a great coach and leader. She was always giving me challenging projects that would help me progress in my HR or management experience." 
Decker says she has enjoyed being a part of the team that works out of McCutcheon Hall, which also includes central hiring and Dining & Culinary's student brand ambassador team.
"Even though I have been working remotely, I still like to go into the office once or twice a week because I do miss that social aspect of talking with my peers and bouncing ideas off them," says Decker. "We have a really fun atmosphere in the office and we also like to do things after hours and hang out. I think it's been really nice that I have coworkers who I can also be friends with outside of work."
In addition to adapting to changes imposed by the COVID-19 pandemic, Decker says one of her job's biggest challenges is delivering trainings to different groups of employees in the appropriate way. Being cognizant of how much time employees have to devote and the stress they are under are part of the factors Decker considers when developing and delivering trainings.
"A lot of things have changed, but I'm just trying to support the Dining staff and not throw too much on them," says Decker. "They are going through a stressful time, so teaching them the proper amount while staying compliant is my biggest battle."
Decker will put the lessons she has learned with Dining & Culinary to use after graduating this May. She has been hired as a district manager in training with Aldi, a supermarket chain with more than 10,000 stores in 20 countries. While working in retail will be a change for her, Decker says she has received additional mentorship from Gretchen Jewell, associate director of Auxiliary Dining Services, that she thinks will prove beneficial.
"Gretchen worked in retail for a number of years so she's been coaching me," says Decker. "She took me out and we walked some stores. She's been teaching me everything she knows, which has been a really cool and important networking opportunity as well."
Decker plans to work in human resources eventually and says she would love to come back and work for Purdue someday. Before graduating, Decker says she wants to continue to do what she can to leave Dining & Culinary in a better place and pass on what she knows.
"I feel like these last two months are going to be stressful, but I want the students to love this position as much as I have," says Decker.