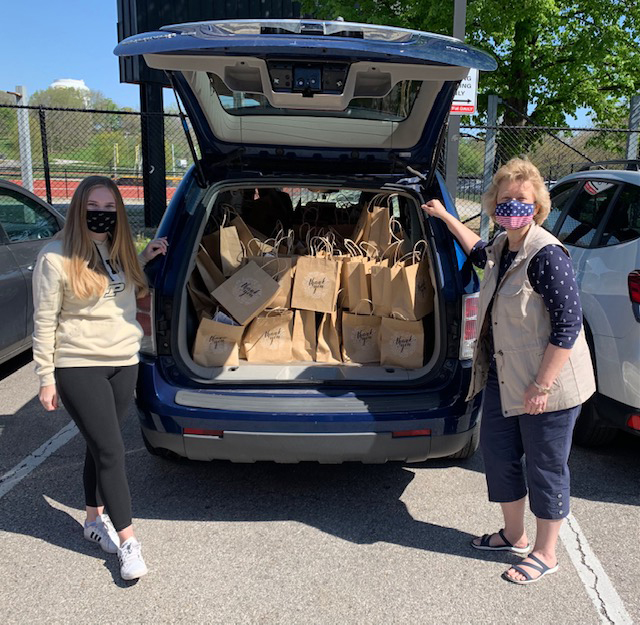 Susan Huffman, assistant director of on-campus housing, has been recognized with one of three 2021 Special Boilermaker Awards presented by the Purdue for Life Foundation.  
Established by the Purdue Alumni Association in 1981, Special Boilermaker Awards recognize and honor faculty and staff who have contributed significantly to the improvement of quality of life and the betterment of the educational experience for a substantial number of students and whose life works have improved the public image of the university. Honorees are nominated by Purdue students, faculty, staff or alumni and are chosen by the Special Boilermaker Award committee. 
Huffman was publicly recognized and presented with a pewter locomotive keepsake during an on-field presentation at Purdue's recent football game against Wisconsin in Ross-Ade Stadium. Her name will be permanently etched into the achievement obelisk on the Engineering Mall as well as a plaque displayed in Dauch Alumni Center. 
Huffman has dedicated nearly 40 years of service to Purdue University, the last 22 within University Residences. In her current role, Huffman provides critical services to students who are having academic or financial challenges, advising them on processes and helping connect them to resources that can provide solutions.  
Mike Shettle, director of administration for University Residences, says Huffman's personal investment in every interaction defines her service to the university.  
"Susan goes above and beyond by engaging the student in conversation to learn more about their background, goals, hopes and dreams," Shettle says. "In each case, she takes a personal interest in their particular situation and offers extensive advice and resources to help them devise a plan to deal with their situation. Fair and firm in her interactions, she seeks win-win solutions in each. This often overlooked, but critical function clearly qualifies her as a 'silent leader' while preventing an untold number of students from slipping through the cracks." 
Barb Frazee, assistant vice provost for Student Life, adds that Huffman's work provides crucial student support behind the scenes.  
"Susan has been an unsung hero to many students during her career in University Residences," Frazee said. "She has helped students and their families work out payment plans and continue as Purdue students because of her diligence and compassion as she helped them navigate financial aid." 
Huffman was part of the leadership team that founded University Residences' Women's Leadership Series in 2011 and continues to be part of the planning process for the event. The series helps women students connect with professional mentors and peers who are seeking ways to grow professionally and build their confidence. Since its inception, the series has provided learning and networking opportunities for more than 1,000 participants.  
"I always enjoy connecting with students," Huffman says. "I enjoy connecting with people in general and getting to know each one as an individual. I've developed a lot of really nice relationships with students over the years and that keeps fueling the future relationships too." 
Before working with University Residences, Huffman served as the coordinator of off-campus housing and assistant dean of students in the Office of the Dean of Students. It was in this role that she became an advisor for Alpha Lambda Delta, an honor society for first-year students. She continues to advise Alpha Lambda Delta Phi Eta Sigma, a merger of the Purdue chapters of two national honor societies. The two societies merged about 20 years ago. Huffman was named Alpha Lambda Delta's National Advisor of the Year in 2018-19. Her service to the National Council of Alpha Lambda Delta included stints as president (2009-18), president-elect (2008-09) and vice president for chapter relations and expansion (2002-08).  
Last year, the Purdue chapter of Alpha Lambda Delta Phi Eta Sigma welcomed its largest ever incoming class of 954 members. The honor society hosts in-person guest speakers, connects members with academic and well-being resources, performs service projects and supports events and initiatives in the campus and Greater Lafayette communities.  
"I was a member of Alpha Lambda Delta as a freshman," Huffman says. "I didn't do much in the organization because, at the time, they weren't very active, but that made me feel so good as a freshman. It jumpstarted my feeling of belonging at Purdue and thinking that I could do well in such a big place. I've always tried to give that feeling back to other students who may need that kickstart or that vote of confidence." 
Huffman is highly sought after to accompany admissions recruiting trips, which have led to friendships around the country and helped numerous students and families choose Purdue. She also previously served as an advisor to the Purdue Student Government Senate and Purdue's cooperative housing community.  
Along with her husband, Dave, Huffman is a loyal supporter of Purdue athletics, cheering on Boilermaker teams at home games and traveling to numerous away events. Part of Huffman's job in University Residences used to include conducting tours of Cary Quad for athletic recruits and their parents – often on short notice. As a result, she has developed friendships with several Purdue head coaches, including Jeff Brohm (football) and Matt Painter (men's basketball).  
"Susan and her family are very dedicated to Purdue," says Elizabeth Hartley, director of alumni and donor relations for University Residences. "She proudly sports her black and gold outfits frequently. She gives her time, talent and treasure to her alma mater."  
Huffman holds a doctorate in college student affairs from Purdue. She previously earned a master's degree in counseling and guidance (1980) and a Bachelor of Science in Counseling and Psychology (1979), both from Purdue.