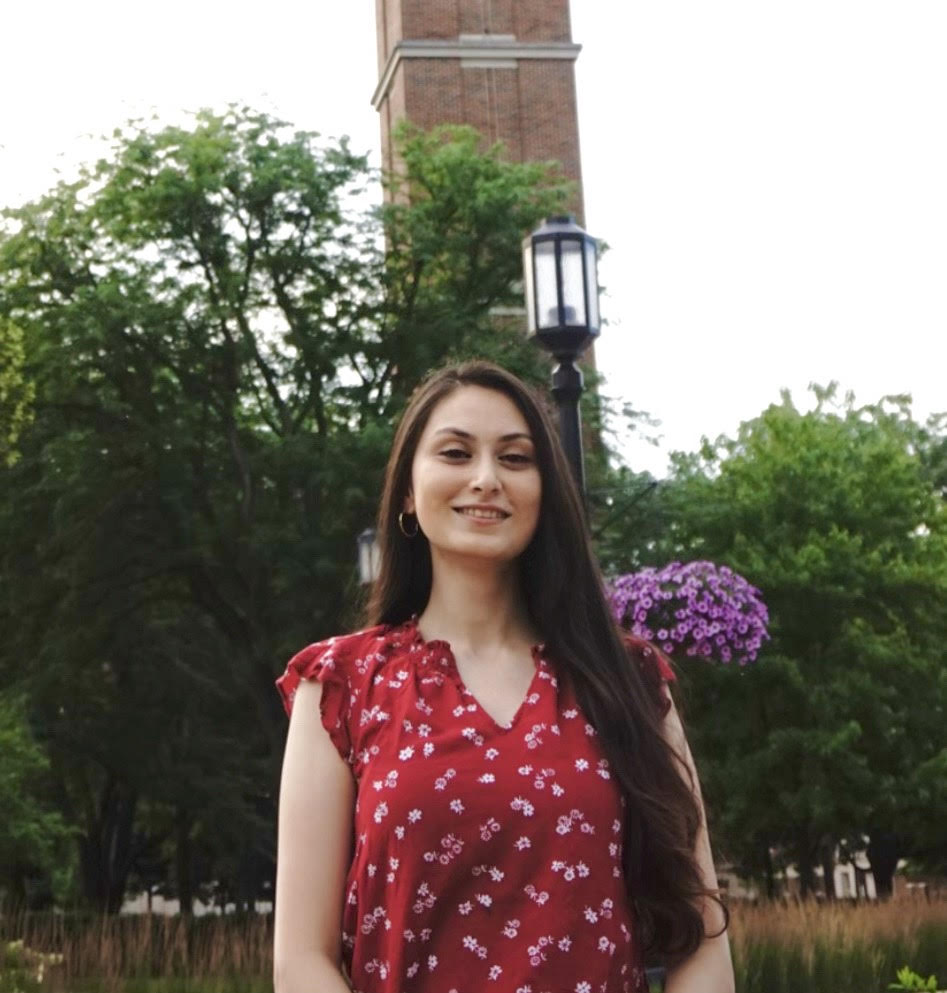 Alisha Aroor, a graduate student studying neuroscience and behavior, has been a member of UR Global since 2016.
"I wouldn't be coming back here as a graduate student if I didn't think it was pretty awesome," says Aroor. "It feels like my home away from home."
UR Global is an organization that provides support and encouragement for international students as they transition to life at Purdue. While UR Global events are catered to first-year students, many members continue to be part of the club throughout their time as Boilermakers. UR Global is also open to students of other backgrounds who want to meet new people, learn about different cultures and participate in fun events.
Aroor, who is Indian and calls Dubai, United Arab Emirates home, transferred to Purdue after completing two years of college in Dubai. Unlike many first-year international students, Aroor was able to visit campus when she came to the United States as part of a trip to visit family in California prior to attending Purdue. She says Purdue is well-known in Dubai for its strong reputation in engineering and science programs, and she had additional knowledge of the university through an aunt who had attended Purdue.
Upon arriving at Purdue, Aroor says she was very reserved even as she tried to adjust to a new culture and university life. She found out about UR Global through a friend she met in a biology course, started attending events and getting to know people, and found a place where she fit in.
"It just felt like I was in my comfort zone whenever I was around the people in UR Global," says Aroor. "It was different being exposed to a new culture when I came here. I think, because everyone was in their first or second year and everyone was international, they related to some of the issues I was having and we just gelled really well with each other."
Over the past several years, Aroor has enjoyed many of the events and opportunities UR Global offers, particularly experiences she says she wouldn't have otherwise had back home. She counts a skiing trip as one of her favorite memories with the club, as well as visits to Turkey Run State Park. As a roller coaster enthusiast, she has also enjoyed annual trips to Six Flags Great America, near Chicago.
Aroor currently serves as a peer educator for UR Global. Her primary roles include speaking to students at events to get them to feel comfortable, sharing resources, helping to plan events and attending meetings. Peer educators have helped students adjust digitally this fall by sharing videos in which they discuss such topics as their majors, campus landmarks, resources for students and other topics catered towards first-year international students. Aroor previously served as the marketing director for UR Global and says being involved was a natural thing to do due to her comfort with the club.
"I think of how welcomed I felt when I was introduced to the club and I wanted people to feel like that as well," says Aroor. "People were just so welcoming. I was so anxious all the time and I didn't really know many people, but when I was with UR Global, I didn't really notice that I was a transfer student or from another country. I know how comforting it is and how scary it is to come halfway across the world and try to adjust to life over here."
In addition to providing opportunities for students to connect virtually, UR Global has held several events this year for students to interact safely, including a hot chocolate night at the fire pit outside Honors College and Residences, a viewing of the movie "The Greatest Showman" in the Mathematical Sciences Building and a mini-pumpkin painting event in Wilmeth Active Learning Center. UR Global leaders are planning and hoping for more opportunities for in-person events next semester, including a possible paint night, movie night and board game night.
Aroor says students interested in UR Global shouldn't be shy about seeking out the club and its many activities and leadership opportunities.
"Don't be afraid to step outside of your comfort zone," says Aroor. "I know, especially before, I was a very closed off person. I was very reserved. I find it funny that I spoke with one friend of mine who recommended me to UR Global because I never used to go out and speak to people, and that changed my whole college life.
"I know it's hard right now, because of COVID, to take part in things, but definitely try to grab any opportunity," says Aroor. "If you can meet people online you can still have some form of communication despite trying to be socially distanced. Just try to get involved as much as possible. I think some of my best memories are with UR Global and with the friends I made in the club."
Aroor earned a Bachelor of Science in Biology with a minor in psychology in 2019 and is currently in the second year of a five-year graduate program in neuroscience and behavior. In addition to her studies, she performs neuroscience and behavior research under the mentorship of Dr. Amy Brewster. While she is currently unsure about her career plans, Aroor says her degree could lead to a career in fields such as research and development, academia, consultation or science policy. 
Readers interested in learning more and keeping up to date with the latest happenings in UR Global can follow the organization's Facebook page.