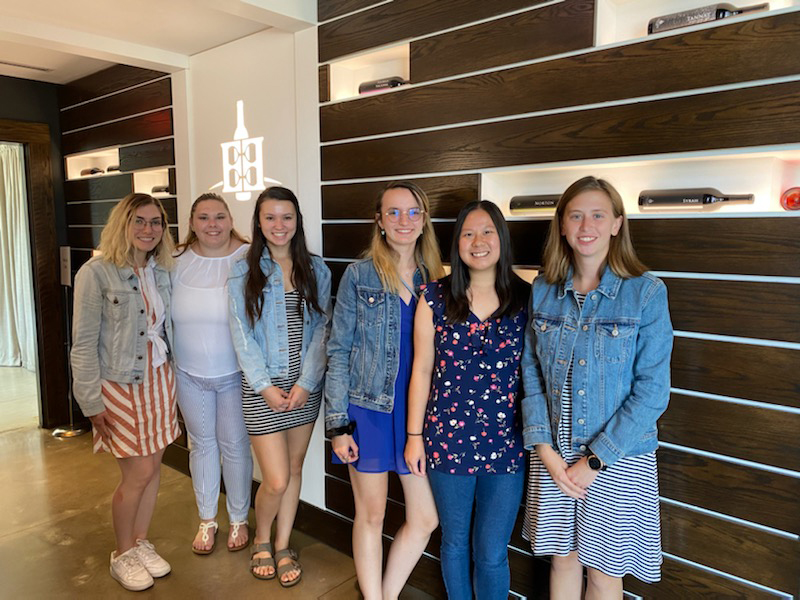 Student Feature
Dining & Culinary Hosts Summer

 

Food Service Management

 

Internship
Six students from universities across the country participated in a 10-week summer food service management internship with Purdue Dining & Culinary, where they received hands-on experience and a comprehensive look at residential dining operations.  
Interns got an inside look at all aspects of Dining & Culinary operations, including procurement of product, inventory, production from recipe to cooking and serving, and a session with administrative leaders on budgeting. Educational opportunities ranged from meetings with Dining & Culinary employees to hands-on learning in the residential dining courts. One of the aspects of the Dining & Culinary internship that sets it apart is the experience it gives participants with a self-operated dining department – many universities now contract with external vendors for residential dining.  
The group of interns included students majoring in dietetics and hospitality management. For some of the interns, this was their first experience with dining operations on this scale. 
"From my previous experiences, I thought serving 100 people was crazy," says Hope Nixon, a senior studying dietetics at Bluffton University. "We were serving hundreds of people and that was a big adjustment."  
A significant part of the internship experience entailed hands-on experience in the residential dining courts. Interns worked every position available for approximately one week, beginning with entry-level student positions and progressing to completing staff relief at the dining court supervisor position in Earhart Dining Court.  
Interns saw first-hand how dining operations have to change on the fly, particularly as residential dining began to resume a more normal mode of operation under the Protect Purdue plan. At the beginning of the internship, Dining & Culinary service mostly consisted of serving food in takeout containers. The dining courts resumed self-service July 1. The operations also had to make different allowances for masking guidelines under the Protect Purdue plan. 
Nixon says she and the rest of the interns learned a lot about adaptability. 
"Plan A is probably never going to work," says Nixon. "Even though we may want to do plan A, in the back of our mind we need start thinking about plan B through Z, whether that's for tomorrow, one week from now or two weeks from now. You have to ask, what can I do next?" 
Adaptability is important in day-to-day operations even without having to contend for new operational guidelines during a pandemic. Having a backup plan for an unexpected rush or accounting for the possibility of running out of a popular dish are some examples. 
"Being able to be flexible, not only with COVID guidelines but with supply and demand is so important," says Brittany Griffen, a senior attending Brigham Young University in Provo, Utah. "We might run out of a certain meat and have to switch to something else. The switches you have to make are regular and constant and the people, like the production coordinator or supervisor, have to make the decision on what to do and then have a backup for that backup because you never know. That's been interesting to see."  
Challenges with supply chains can also impact daily operations – something the interns experienced firsthand. Prices of some products increased significantly to the point that they were no longer practical to purchase and serve, while the shipping of other products were impacted by the sourcing of storage and shipping materials.  
"I really liked getting the whole scope of the supply chain," says Kayla Jewell, a senior majoring in dietetics at Purdue. "We really hit every step. It's been super eye-opening to be a part of that and take every little skill that we can from each step." 
The internship also included lunch and learns, field trips and opportunities to connect with dietitians and other food service professionals from the university and in the community. Field trips included stops at a local winery and brewery, as well as a food bank. Molly Winkeler, registered dietitian, and Gretchen Jewell, associate director of auxiliary dining services, coordinated learning opportunities while serving as the internship supervisors. The variety of experiences gave each intern a different perspective to consider when thinking about their respective careers and interests. 
"Even though I probably won't go into food service, everyone had a different perspective that was very valuable," says Samantha Toy, a sophomore studying dietetics at Bradley University. "Everyone had great feedback and input that we can take into our future careers." 
Elizabeth Helmick, a senior studying hospitality management at York College of Pennsylvania, has a similar outlook. 
"I think the biggest thing I'm going to take away from this internship is to learn everything I can and take every opportunity that I can," Helmick says. "As a hospitality management major, there were a lot of things I did not know about at all. I have gained so much respect for the dietetics field and learned a lot about it. The dietetics world is growing and, as there are increases in allergies and different diets, I'm going to have to know about them and it's so great to have these relationships with people I can go talk to in the future – whether it's working a restaurant, hotel or somewhere else. It's been an eye-opener." 
Isabella Przybylo, a hospitality management major at the University of Illinois Urbana-Champaign, says exploring different aspects of dietetics in hospitality gave her a broader perspective beyond her field. 
"A lot of times we were doing things that weren't specifically related to my field, but that, in my opinion, was more beneficial than doing things that hospitality management students would normally be doing," Przybylo says. "I'm just really grateful for all of the field trips we got to go on. All of those opportunities were awesome but they were also insightful and informative."  
In addition to gaining supervisor experience, interns completed an allergy training certification and became certified to lead food allergy trainings. They ultimately led sessions where they trained Dining & Culinary employees. Most interns noted that the opportunity was the first chance they'd had to teach others about an area of their expertise. For some, such as Nixon, teaching has an immediate application – she will be a teaching assistant this fall. The benefits of learning to teach also have long-term application.  
"That skill is important to take with you because, even if it's not a sit-down presentation, you're still teaching when you have to train someone," Helmick says. "For a lot of us, this was our first time teaching adult learners so that was a challenge. One of the toughest things about being a young leader in hospitality is we see a lot of people who have been doing this for 30 years, but sometimes you still have to break an old habit or teach some new things. Being able to teach that session was important because we learned to slow down a little bit, give breaks for learning and not run through things quite so fast."