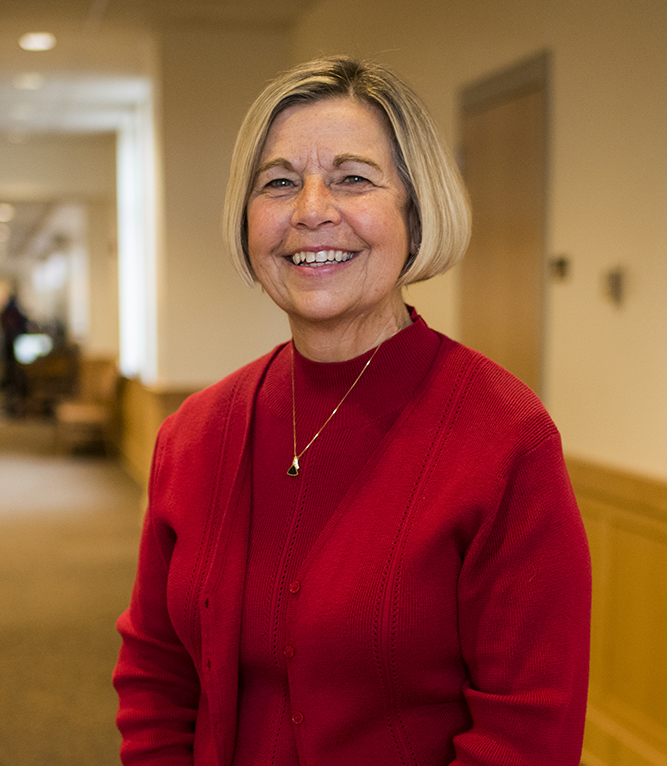 Sally Baugues, who most recently served as CBORD administrator for Purdue Dining & Culinary, retired in August 2021 after 45 years of service to Purdue University.  
Baugues possesses a true love for cooking which dates to childhood. She nurtured her passion as a member of 4-H for 10 years and completed projects in foods and food presentation. She later earned a Bachelor of Science in Dietetics from Purdue and worked in food service as a student.  
Upon graduating, Baugues began her career as a food supervisor for residential dining. She later earned promotions to ordering supervisor and then food manager, a position she held until 2000 before leading the administration of CBORD for Dining & Culinary. Baugues was part of Dining & Culinary for many significant changes to campus dining under the Dining Master Plan, which transformed the campus dining experience from small-scale operations in each residence hall to the dynamic model with dining courts enjoyed by students today.  
During this time, Baugues developed and maintained lasting friendships with Kathy Manwaring, who recently retired as director of dining operations, and Sarah Johnson, former director of residential dining. Baugues first met Manwaring when the two worked together when Baugues was a student. They went on to work closely together in various capacities throughout Baugues' career. Baugues notes that the mentorship she received from Manwaring and Johnson played a significant part in her career. 
"Their guidance, attention to detail, ability to help me learn and grow, and then point me in the right direction was a good experience," Baugues says. 
Baugues made a significant impact on Dining & Culinary operations in managing CBORD, a food service management system that contains all of the organization's menus, recipes and ingredients. The system allows Dining & Culinary to construct and forecast menus, create orders, find ingredients, share nutrition information and more.  
The launch of CBORD was a massive undertaking for Dining & Culinary, requiring countless hours of data entry and coordination with different areas of the department to verify recipes, ingredients, portion sizes, yields and more. CBORD also communicates nutrition information via the Mobile Menus app, which helps students choose meals that fit their diet.  
In each of her roles, Baugues developed many close relationships while supervising and working in tandem with students. She even welcomed several students who were looking for a place to live into her own home at various points throughout her career. She remains in contact with former students and will be attending the wedding of one of her final interns this fall.  
"They were very fun and entertaining, and we worked really close together," Baugues says of her work with students. "They kept me appraised of what's going on in today's world and how things have changed. They'd share their lives with me, what was going on in their education and ask for advice on school, personal and life skills in general. That was always fun and interesting."  
Former colleagues in Dining & Culinary and University Residences speak highly of Baugues' abilities as a chef, with many fondly remembering dishes that she would bring to social events at work. Several of Baugues' own recipes even found their way onto the campus dining menu, including a broccoli cheese noodle soup. While scaling recipes for large-yield production can be difficult, Baugues says the end result was ultimately rewarding. 
"Being able to take that home recipe and make it work in the dining courts was challenging, but it was also fun and something exciting to try," Baugues says. "I brought a lot of my own, personal recipes to the dining courts. It's always neat to see something that was my recipe on the menu."  
Baugues says she has been slowly settling into retirement. She routinely exercises at the local YMCA and, when the weather is warm, can often be found tending to her flowers and garden. She and her husband, Jim, are enthusiastic supporters of the Boilermaker football and basketball teams, and she also enjoys sewing and crafting. Baugues also hopes to do some traveling in the future.