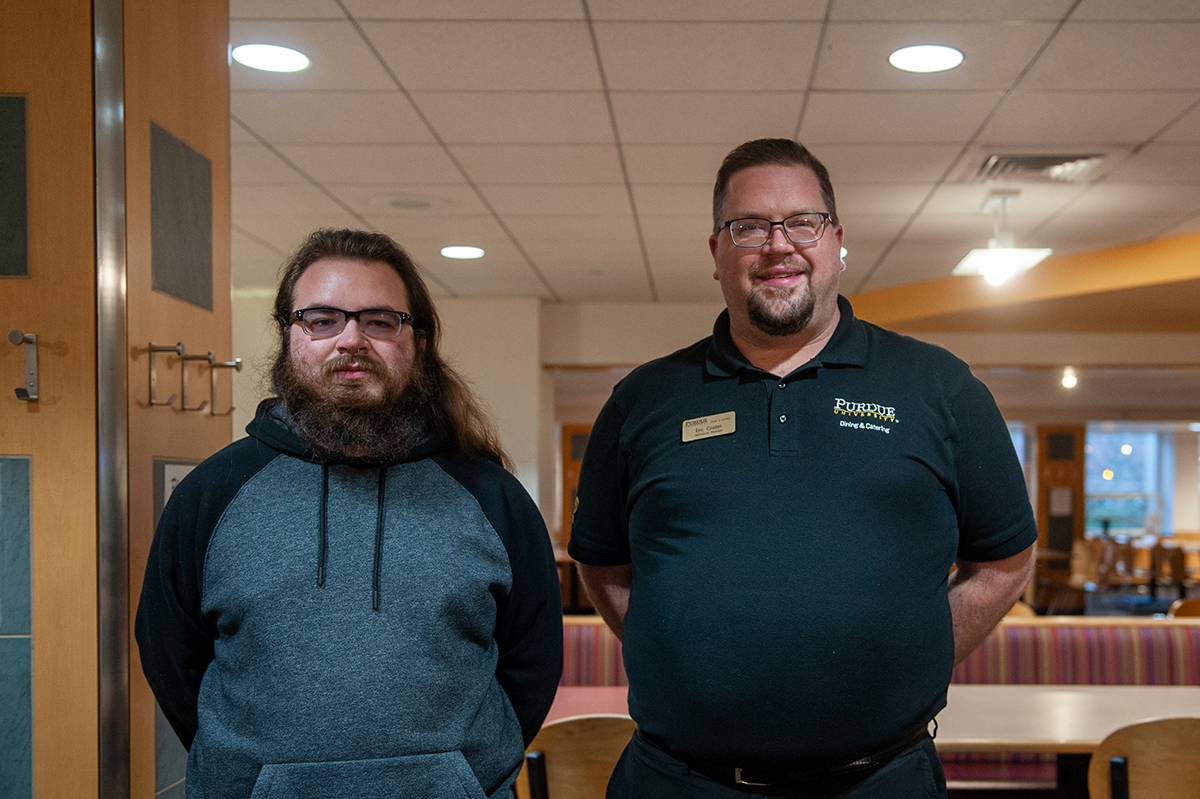 Tyler Wilson has been named the recipient of an Above and Beyond the Call of Duty (ABCD) Award, which recognizes students whose actions make a difference at the university and contribute to excellence within Student Life. He will receive a $300 award in conjunction with the recognition, which is bestowed four times throughout the year.  
Wilson is currently a supervisor-in-training at Earhart Dining Court, having previously succeeded in positions as a student associate and cook. He began working at Earhart in October 2020. 
"It's been a really rewarding experience to be able to start as an associate and work my way up to become a supervisor-in-training," Wilson says. "They offer great opportunities like that to grow and not just stay stagnant. Aside from that, the environment is really cool."  
In addition to working at Earhart, Wilson is currently completing a student teaching internship as part of his studies in early childhood education and exceptional needs. Eric Coates, residential dining supervisor at Earhart, says Wilson's passion for teaching is evident in the way he serves as a leader on the dining court staff. 
"Tyler has made it our mission to help our student cooks get their checklists completed," Coates says. "On a closing shift, it is commonplace to see Tyler working with three or four student cooks on their checklists. He has worked tirelessly on his shifts to ensure that we will have an excellent crop of student supervisors for the future. This was quickly noticed by his fellow students and he has become a go-to when they have questions or need help." 
As part of his student teaching, Wilson works closely with children between the ages of two and four years old. While working with his peers and professional staff is quite different from leading a classroom, he says he's honed transferable skills in professional communication.  
"You still do have those moments where you need to take charge," Wilson says. "Being a supervisor-in-training and having to assign my students into different stations has been helpful. That goes with the classroom experience in a sense – having to collaborate with other teachers and aides. In the younger classrooms, we don't have one teacher – we have multiple teachers we have to collaborate with. It's not the same as collaborating in a kitchen, but it's still people skills."  
Wilson says he's found particular value in the connections he's made while working at Earhart, including peers who are going through a similar grind in coursework and professional staff who have helped him make a connection with a teaching professional.  
"Making connections and meeting all of these great people that I've been able to build relationships with has been pretty rewarding," he says. "I'd say that working in the dining court has been a good experience for me overall and I'd recommend it to others that are looking at getting a job on campus. We're always hiring." 
Wilson is a first-generation college student and will graduate in May 2022, after which he hopes to work in a head-start program for at-risk youth near his hometown, Gary, Indiana.