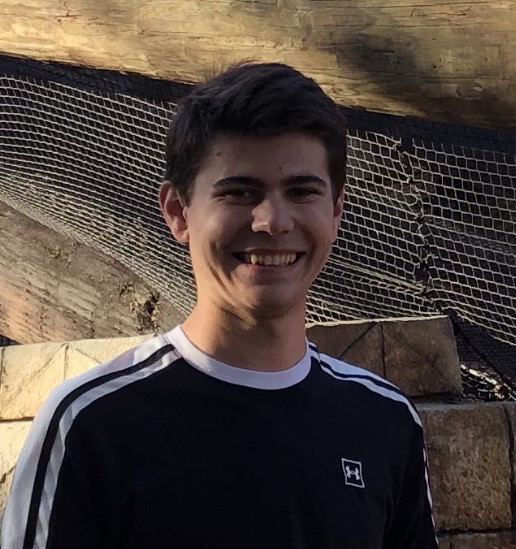 Bryan Hagan, student manager at Earhart Dining Court, has been a Purdue Dining & Culinary employee for longer than he has attended classes at Purdue University.
Hagan first became interested in joining the Dining & Culinary team at Summer Transition, Advising and Registration (STAR), when he was exploring his options for a campus job. He decided working for Dining would be a good fit and participated in Jumpstart, which allows students to begin their employment and move into their residence halls before Boiler Gold Rush. Jumpstart allows students to learn specific job tasks, get to know campus and make new friends, which Hagan says helped him acclimate to campus while working in Earhart Dining Court. 
"It was a huge help because I got started getting to know people as soon as I got here," Hagan says.
Hagan has been a fixture in Earhart ever since, holding nearly every student position available in the dining court, including associate, storekeeper, cook, supervisor and his current manager position. As a student manager, Hagan's primary duties include maintaining schedules, training student employees and providing oversight and assistance, with a particular focus on student cooks and supervisors. He also leads team meetings with student supervisors every three weeks. Hagan says the variety of tasks keeps him engaged.
"It can be a breath of fresh air," Hagan says. "I don't like doing one thing all the time or being in one spot all the time. Having all these tasks to balance keeps the job fresh."
Prior to joining Dining & Culinary, Hagan had no experience supervising or leading a team. Encouragement from coworkers and supervisors helped push him towards these leadership positions.
"The main thing that put me into that was, whenever there were open positions for student supervisors-in-training, I had people above me encouraging me to apply for the position," Hagan says. "It wasn't something I initially felt very confident about, but they kept pushing me to go for it and, the more I was in the position, I realized I was pretty good at it and it was well suited to how I see things." 
Becoming a supervisor and now, a manager has been a good fit for Hagan because he says he likes to look at the big picture when he thinks about his responsibilities.
"If you're supervising on a shift, you have to be thinking four hours ahead," Hagan says. "When managing and thinking about scheduling and training people, you have to be thinking months ahead. You have to see it from a broader scope. That's something I've always been able to do and, once I saw that this position requires that, it came more naturally." 
Eric Coates, residential dining supervisor in Earhart, describes Hagan as a reliable, trustworthy, hard-working and self-motivated individual who does an exceptional job setting an example for the rest of the staff in Earhart.
"Bryan uses a coaching leadership style that clearly communicates expectations to student supervisors, which has been especially helpful during the times of uncertainty in dining operations over the past two years," Coates says.
It's these qualities that led Hagan to being named the recipient of the Sarah Johnson Outstanding Student Employee of the Year award. The award is selected based on reliability, quality of work, teamwork and contributions to Dining & Culinary. The award recognizes the many contributions of Sarah Johnson, former director of residential dining for University Residences, who dedicated 37 years of service to students at Purdue University and the National Association for Colleges and University Food Services. Dining & Culinary is working to endow the award, which can be supported via this page. Hagan received a monetary award as part of the recognition.  
Hagan says he makes a conscious effort to show other employees how things should be done.
"The way I try to lead is by example, showing people the way things should be done and then handing it over to them to give them a chance to do it," Hagan says. "I always to try to make sure that if I tell someone to do something I show them first, so it doesn't just feel like a setting where you have a boss telling you to do things." 
The challenges that come with a leadership position, especially staffing challenges exacerbated by the COVID-19 pandemic, have provided Hagan with opportunities to develop problem-solving skills in the way he manages people to maximize staff performance and in the upkeep of equipment. He says he has learned important troubleshooting skills that have impressed upon him the importance of being thorough and detail-oriented in his tasks. He says he has also developed time management skills, especially over the past year, as he balances his time between work, studies, his senior design project and serving as president two student organizations, Purdue Vinyl Club and Purdue Music Producers. 
Hagan will graduate in May, after which he will begin his career as a civil engineer with Midwest Engineers, Inc. in Loogootee, Indiana, about a 30-minute drive from his hometown, Jasper. He says the lessons he's learned as a student employee will serve him well in his career.
"All of this has definitely given me a lot more confidence to move into that next step with my job and I definitely think I'm better off having had the job at Earhart as opposed to not having it," Hagan says.
Hagan recommends that incoming students consider joining the Dining & Culinary team, especially if they have an interest in developing leadership skills that will help in their future profession. 
"Obviously there are pros and cons to each job here on campus, but I can say that after my four years in Dining that this has a lot of potential and opportunities to help going forward in your career," Hagan says. "Not a lot of jobs around here have this sort of leadership opportunity where you can really get into learning how to manage a team. I would at least recommend people give it a try."