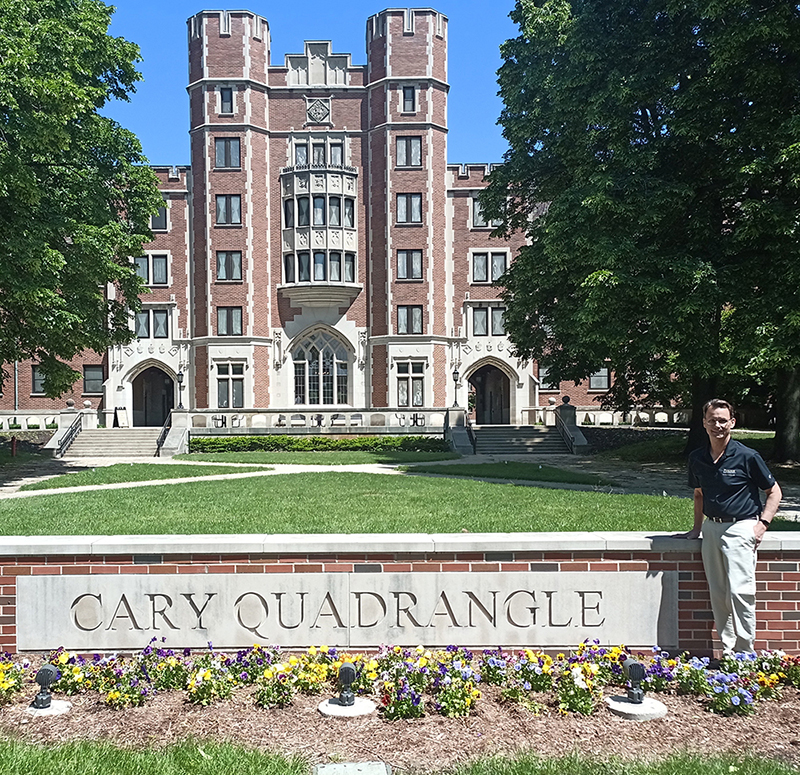 Steve Jonker, who currently serves as assistant director of residential housing operations for University Residences, will retire at the end of June with 38 years of service to Purdue University. 
Jonker initially came to Purdue in 1983 as an operating engineer in physical facilities, where he worked in several academic and research buildings. He joined the University Residences team several years later as a facilities manager, first at Fowler Courts and later Terry Courts.
After leaving briefly to serve as foreman of Physical Facilities' sheet metal and welding shop, he returned to serve as facilities manager of Cary Quad and later served as facilities manager for Ford Dining Court. He later became assistant director of residential housing operations before earning his current role. One of his primary responsibilities is to manage the contract between University Residences and Purdue's two public-private partnership (P3) residence halls, Frieda Parker Hall and Meredith South, to ensure that students receive the same high-quality experience they receive elsewhere.
While working full-time during the late-1980s and early-1990s, Jonker enrolled as a student at Purdue and earned a degree in organizational leadership and supervision. He primarily went to school at night and used vacation time to attend class during the day when day classes were required. He also recalls having to drive out to Twin Lakes High School in Monticello, Indiana, to take a math class twice a week. Jonker accomplished all of this while he and his wife, Cheryl, raised two young children. It took about six years for Jonker to complete his degree.
"It was a tough process and sometimes, with the young children, it was even more difficult – but I think that set an example for them," Jonker says. "They're both now Purdue graduates and both graduated in four years."
Jonker says his first supervisor, Fritz Seeger, served as an important role model during the beginning of his time at Purdue and was influential in his decision to obtain a degree.
"He had the confidence in me to hire me," Jonker says. "He also instilled confidence in me, believed that I was capable of more and urged me to go to school to get my degree so I could obtain a higher position."
Jonker says he has worked with innumerable people who have had a positive influence on his time at Purdue. He also cites his father, Hank, who provided 46 years of service to Purdue as an administrator in physical facilities, as having set an example to follow.
"Even though he may not know he showed this to me, through his example I learned that hard work and good ethical practices as well as a good work-life balance were important in any career," Jonker says. "I've been able to follow that lead."
As a facilities manager, Jonker served as a supervisor for students who worked for facilities during the summer and who often served as members of the housekeeping staff on weekends. He enjoyed getting to know students so he could relate to and help them. At times, he would include students in decision-making processes and ask for their help in solving various issues that would arise.
"I liked the fact that they were always very positive," Jonker says. "I liked that they had good ideas if you would just listen to them. Sometimes we think we know all the answers, but I find that they're very creative. That was a highlight of working with students – their creativity and positivity."
University Residences and Dining & Culinary underwent drastic changes during Jonker's service, including the implementation of the Dining Master Plan, which transformed dining service to the dining court model used today. Many new residence halls, including Hillenbrand, First Street Towers, Honors College and Residences, and the Parker halls were constructed during this time. Jonker was part of the Cary Quad staff during its extensive renovation, which was completed in 2006 and he was the first facilities manager for Ford Dining Court when it opened in 2004. He says he takes pride in having been part of University Residences during such a transformational era and contributing to the modernized experience enjoyed by today's students.
"I think we became the choice for undergraduate students and I think that still carries through to today," Jonker says. "The huge demand that we have is largely because of that effort."
When reflecting on his Purdue career, Jonker says he is completely satisfied.
"I wouldn't do anything different," Jonker says. "Even the few disappointments have been learning situations and I think it's made me a better person."
Jonker will retire at the end of June, after which he says he doesn't expect life to change that much. He looks forward to continuing to visit his two children and three grandchildren, who all live in Indiana, and working on projects around the house. He also expects to travel to warmer climates during the winter.