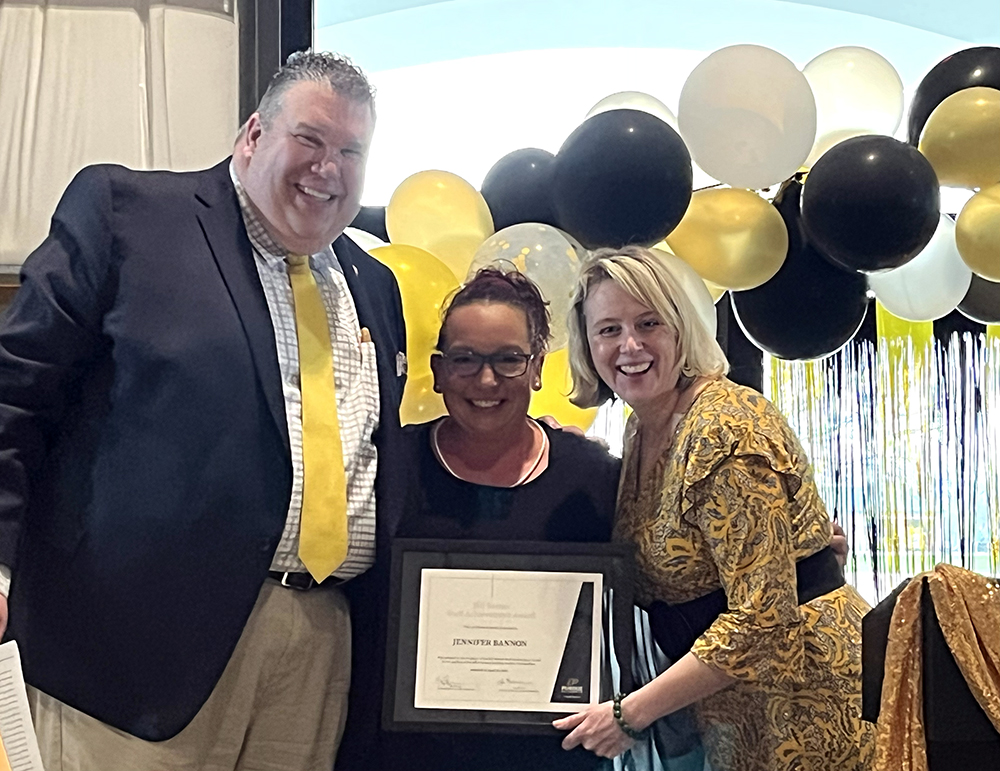 Jen Bannon, associate director of Residential Life, has been awarded the Bill Berner Staff Achievement Award for the 2021-22 academic year.
The award annually recognizes an administrator whose mentorship and personal attention to students and staff reflect that of Bill Berner, a long-time University Residences employee who made a significant impact with his individual attention to students during his tenure. 
Bannon's role in Residential Life focuses on student staff selection, training, professional recruitment and student leadership. Bannon sets selection criteria for resident assistants (RAs). She has reassessed and recalibrated how students are graded during the selection process to better integrate the more than 15,000 diverse students that call University Residences home. She helps support RAs in their endeavors with updated training and a commitment to leveraging leadership development resources from within University Residences and elsewhere on campus.
Bannon also serves as advisor to several University Residences student organizations, including the Residence Hall Association (RHA), National Residence Hall Honorary (NRHH) and the Jay Severson Student Leadership Committee. As an advisor, Bannon makes a direct impact on student leaders. She additionally nominates and mentors students to represent Purdue at regional and national residence hall conferences, such as events hosted by the Great Lakes Affiliate of College and University Residence Halls (GLACURH) and the National Affiliate of College and University Residence Halls (NACURH).
Students say that Bannon's commitment to relationships and level of individual care make them feel welcome and supported in UR. She often communicates with students through group text messages and written notes, shares personal stories and bakes food to show her support for Boilermakers. 
"Jen's strengths lie in her ability to build relationships with all those around her," wrote one of Bannon's nominators. "She could easily go through her day by doing her job, attending her student organization meetings, and then going home to spend time by herself and not get to know the people and students she works with. Instead, Jen uses her time to get to know everyone she works with and reminds them of how much she truly cares about them. She often takes the time to honor her students' accomplishments through small treat bags and written letters."
Under Bannon's guidance, NRHH and RHA have expanded engagement within the residence hall community. Since Bannon began supervising NRHH, membership in the organization has quintupled.
"From each president to the newest inductees, Jen pushes the limits of what a student has done and encourages them to grow into something more," wrote another nominator.
Bannon has also helped RHA expand its influence to serve students in residence halls and beyond. RHA opened the 2021-22 year strong with one of its most successful RHA Day events ever to celebrate the return of the full residential campus experience. Due to Bannon's encouragement, the organization continues to evolve and seek new opportunities to collaborate with more student organizations.
Bill C. Berner, for whom the award is named, began his Purdue career in 1955 as manager of X Hall, now known as Meredith Residence Hall. He later served as the first manager of H-1 (now Owen Hall) and H-3 (Wiley Hall). In 1969, he was named the associate director of residence halls.
The award is presented through the support of the late Donald L. Heirman, who created the award to honor the mentorship and personal attention he received from Berner, as well as in memory of his wife, Lois. It was thanks to Berner's encouragement that Donald developed a relationship with Lois. The couple were married in 1963 and enjoyed 45 years of marriage.
The award will continue to be bestowed annually in honor of Berner and with the support of Heirman.