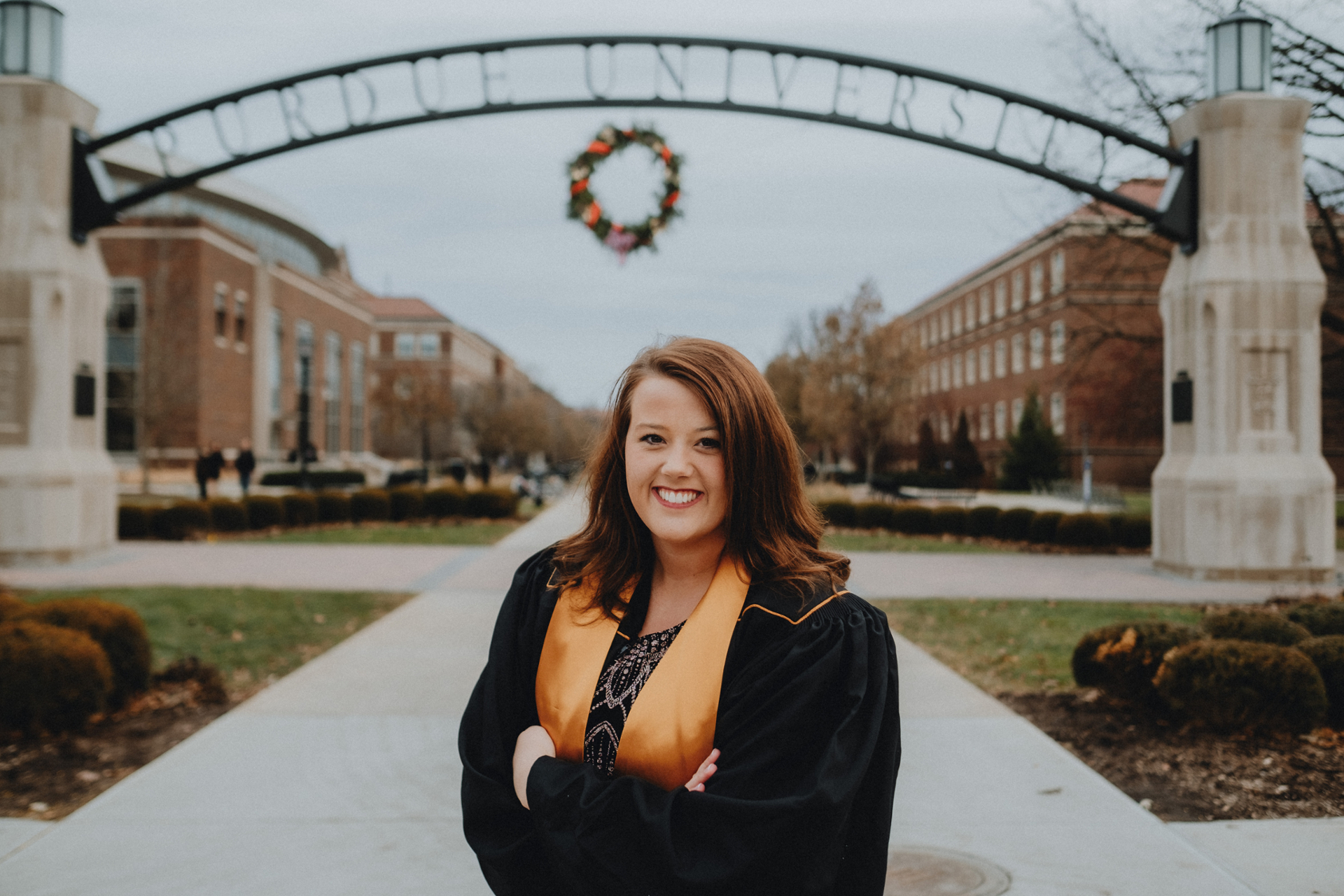 Alumni Profile
Shriver Reflects on RA Experience, Applications in Career
As a resident assistant and, now, as a registered nurse, Lexi Shriver has helped individuals focus on fulfilling their potential. 
"I like to see long-term growth," says Shriver. "I'm realizing in my nursing career that I like to see from point A to point B. I like to see the potential and then pull it through. I liked to help my residents and now, my patients, see that in themselves, help them get where they want to be and help them see what they can be. I'm a big fan of seeing that growth and I think the process is much more fun than the destination."
Shriver spent three and a half years as a resident assistant in Third Street Suites, now known as Griffin Hall South. During that time she had plenty of opportunities to witness and impact how the growth process can manifest for different people. 
"I learned that it's a long process and that it can be a difficult process, especially if the residents are refusing to see it or struggling to see it," says Shriver. "I learned that patience is really key in the development process and not everybody takes the same path, and that's ok."
During her time as a resident assistant, Shriver says she learned valuable lessons in crisis management, conflict resolution, professionalism, problem solving and communication – all of which she applies to her career. She currently works for Riley Hospital for Children in Indianapolis. Her ability to problem solve has already made an impact on her young career. 
"I was bumped up to a charge nurse really quickly because I was able to problem solve on my feet and I owe a lot of that to ResLife," says Shriver. "You get tossed into these situations that you don't get taught in training and you just have to adapt. I'm really grateful for that because, a lot of times, I fell on my face in ResLife and I wouldn't have been able to do that out in the work force. It gave me that safety net to work with. I've even used my bulletin board and programming skills up on our floor!"
Shriver says she sought the opportunity to become a RA due to the positive experiences of several close friends as well as her own desire to be a mentor.
"I always had this motherly instinct I guess and I had this dream that I would have my floor full of freshman that I would get to parent, for lack of a better term," says Shriver. "I really like the mentor role and I wanted to jump in on that really quickly."
Shriver says she also received significant mentorship from Bryttani Watson, then a residence education coordinator at Third Street Suites.
"She was the most understanding person I have ever met," says Shriver. "She and I butted heads at the beginning and there were times where I didn't appropriately handle conflict resolution, but she was the type of person who didn't give up and made me see the potential in where I could be. She genuinely cared about me as a human before she cared about me as an employee and that was the same approach I took with my residents."
Shriver demonstrated her care for her residents by being approachable and available where her residents were – often through study sessions in the floor lounge.
"I was in there trying to study too," says Shriver. "I was also up at 3 a.m., probably crying. They saw all of the real human parts of me too and I think that was really helpful."
Engaged residential communities can often take on their own personality and that was the case with Shriver's community in Third Street. For two years, she served as a RA on the fourth floor – which led to the community being dubbed "The TR4P" (pronounced "trap"). "TR4P Tuesdays" offered residents the opportunity to get together for small parties to check in, and weekly events known as "It's Wednesday, My Dudes," gave Shriver and her residents the opportunity to gather to watch Vines (a now defunct social medium that featured short, funny videos).
"It gave them something to really unite in, to know that was their home and their place," says Shriver. "We kind of developed our own little language in how we could communicate with each other."
Another point of emphasis for Shriver was gathering community support for those residents who were involved in activities and organizations on campus. Cheering on members of the band, including a Golduster and member of the color guard, and supporting participants in the Purdue University Dance Marathon and Miss Purdue pageant were some of the ways in which Shriver and her residents supported members of their community.
"It was important to invest in what they were excited about and what made them unique," says Shriver. "I think that they really appreciated that they knew they had our support."
While there were many planned activities she engaged in with her residents, Shriver says her favorite memory was a spontaneous celebration around the holidays. She and her RA colleagues dressed up in Christmas costumes, turned a luggage cart into a sleigh and paraded through the halls singing Christmas carols and handing out candy canes.
"At that point in the year, everyone is in such a tense mood because of finals," says Shriver. "It was really nice to see everyone lighten up, smile, carol along with us, and pull out their phones for selfies and videos. It was one of the best memories ever."