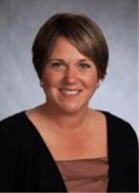 During a typical year, development officers are typically out on the road meeting with alumni and friends of University Residences and Dining & Culinary to seek support for the many high impact programs available to students. That hasn't been the case over the last 10 months, but Danielle Roudebush, director of development for Student Life – Teaching and Learning, has been working to create connections in other ways to ensure the success of University Residences and Dining & Culinary programs.
"Being new and not being able to meet people in person has been a challenge," says Roudebush. "Right now, most of my connections have been phone calls and video calls, of course."
Among her development responsibilities include work for University Residences and Dining & Culinary. She began working for the University in March after serving as the head women's golf coach at Brown University and managing the fundraising efforts for the program.  
One of the projects Roudebush is working on is creating an endowment for the Executive-in-Residence (EiR) program, which provides opportunities for students to make connections with successful Purdue alumni. Most executives spend approximately one week "in residence," when they live among the students and engage with them through formal programming and informal interactions.
"Most of the executives say that it was one of the best times of their lives," says Roudebush. "I think that's an amazing compliment to that program. The executives want to see it become one of the best programs in the country."
One of the next steps under consideration for the program is creating opportunities for students to travel off campus and shadow an executive. The EiR staff continues to book executives well into the future and looks forward to the resumption of the well-known opportunity for the hallmark one-on-one interactions between the students and executives.
"The program is evolving to add more value to the student and executive," says Roudebush.
During her outreach, Roudebush also connects with former student leaders who have held leadership positions in the residence halls, such as being a resident assistant. She says she often hears from former RAs who reflect on how applicable their experience has been in their careers. 
"The responses I receive are of a very positive experience," says Roudebush. "Alumni are able to take those skills they learned as a RA and transfer them into their careers. They say it was such a positive experience and it helped them understand how to deal with people and how to work with friends. They encourage their children to be RAs and they look for RA experience when they're hiring people." 
Opportunities are available to support current RAs through the RAISE Fund, which reduces tuition costs for Purdue's resident assistants. Gifts help provide the highest level of quality leadership to student residents as they make the important transition to adulthood.
"The highlight I've heard from most people is how much their RA experience meant to them," says Roudebush. "The experience improved their leadership skills and made a huge impact on their lives and careers."
The EiR program, RAISE Fund and other programs such as Men's and Women's Leadership Series, student leadership retreats and employment opportunities provide invaluable experience for Boilermakers outside of the classroom.
"I enjoy learning from and being of service to Purdue alumni and donors," says Roudebush. "Their affinity to the University shows how much they love to impact the students and pay it forward for all Boilermakers."
Visit this page to learn more about giving to University Residences.