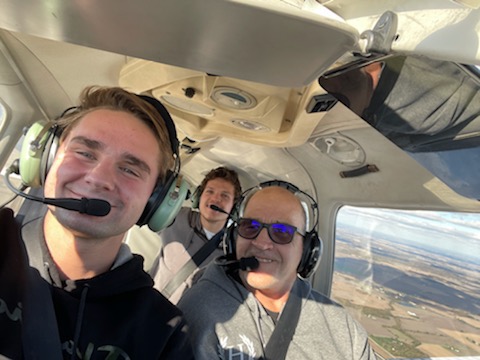 The bond that exists between Ron Morgan, a member of the service staff in Harrison Hall, and the residents of Harrison is immediately evident as one walks around the hall with him. Students are quick to greet Morgan with a fist bump or a hello, poke their heads out of their rooms to say hi or stop to make small talk. 
"Ron's the GOAT [greatest of all time]!" one students calls as he walks by a room on the seventh floor.  
This bond between Morgan and the residents of Harrison recently led to a gift for Morgan's upcoming retirement – an airplane ride with two students from the seventh floor. The floor is made up entirely of students studying aviation in some capacity, with approximately half of the residents studying to become future pilots and the rest pursuing maintenance courses. When Morgan's residents learned that he was interested in a ride, they moved quickly to make it happen. 
"I said you do your moves, do whatever you want – I just want to go for the ride," Morgan says. 
The flight took place on a recent afternoon, with two students taking off from Purdue University Airport with Morgan in one of the university's Piper PA-28 Warrior IIIs – a small aircraft powered by a four-cylinder engine, with seating for three passengers in addition to the pilot. The flight route included time over Exploration Acres and opportunities to see notable campus landmarks like Mackey Arena and Ross-Ade Stadium from the air.  
Morgan had flown in a small, single-engine aircraft in California once when he was younger – but he says this experience was even better. 
"I had the thrill of my life," Morgan says. "They did some moves that they had to practice for their studies. I told them I wanted them to get a good grade and stay with it, so do the moves you have to do to get the grade."  
Morgan says his bond with his residents starts the day students move in, when he directs traffic around the hall. Despite living an hour away from campus, Morgan usually arrives early for his shift to take stock of what he needs to do for the day and offer encouraging words to students as he sees them.  
"The best thing about being here is the students," Morgan says. "Our main goal is to take care of them. They're more or less our family. I watch all of these kids grow from the time they come in as freshmen."  
Morgan has worked for University Residences for the past 18 years. During that time, he has also served on the staffs at McCutcheon, Shreve and Hillenbrand halls as well as Hilltop Apartments and Purdue Village, while also lending an occasional hand in First Street Towers and Hillenbrand Hall. During that time, he says he has built friendships with students from around the world, including Africa and Australia. He enjoys visiting with former residents when they move to other halls on campus.  
After a long career that also included jobs as a painter, and working in a lumberyard and hardware store, Morgan will work his last day at Purdue on December 22. While he's used to being busy, Morgan says he's going to take retirement one day at a time. He hopes to travel and continue attending Purdue volleyball and basketball games.  
"I can take it easy now," he says. "It's time for the younger ones to take over." 
Morgan says he'd also like to thank his supervisors, notably Carlotta Gray, Becky Moyer and Melissa Paxton for helping make his time at Purdue enjoyable. Morgan celebrated his retirement with colleagues and friends at a party in Shreve Hall.