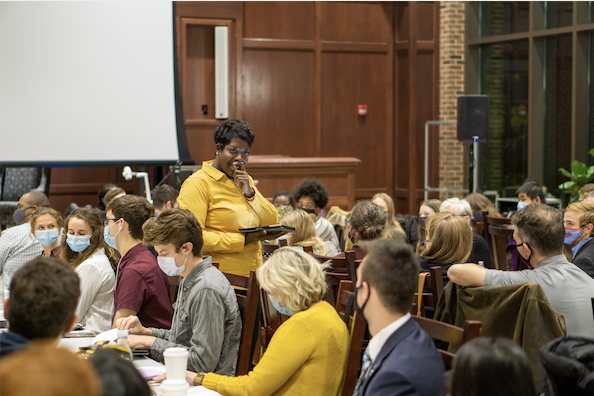 For Toyinda Smith, leadership begins with relationships – and it's these relationships that have helped define her journey from Purdue student to successful alumna.
Relationships developed at every stage of her Purdue experience have shaped her journey from resident in Harrison Hall and standout student-athlete to young Residential Life professional and now, author, motivational speaker and leadership coach. It's these positive influences that helped bring Smith back to campus to speak to University Residences' Women's Leadership Series (WLS) Men's Leadership Series (MLS).
Smith was originally asked to be the keynote speaker for the 10th anniversary celebration for WLS in fall 2020, but due to the COVID-19 pandemic, those plans had to be put on hold. Despite the challenges, she says the decision to share her experiences with students, faculty, staff and alumni participating in a combined MLS and WLS event was an easy one.
"I wanted to come back and add value for the students and staff who were going to be present because the residence hall system added value to me when I was a student – in more ways than one," Smith says.
Coming to Purdue was, Smith says, a step out of her comfort zone. Originally from Gary, Indiana, Smith had some concerns about moving from a diverse environment to a predominantly white institution and what that might mean for her experience as a young Black woman. Relationships with administrators, such as James Foster, Barb Frazee and the late Dennis Brown, helped Smith find her place and develop as a student leader.
"They helped me to become the best version of myself through role modeling," Smith says. "They taught me a lot about teamwork, how to be an adult, how to communicate – even when it was communication that was going to be unfavorable – and understand how to work in a diverse environment, especially within the living environment."
Smith translated these lessons from her residence hall community to the field of competition. She became an accomplished student-athlete for the women's track and field team, winning a national championship and twice earning All-America honors in the 20-lb weight throw while leading the Boilermakers to the 1999 Big 10 championship. She won five individual Big 10 titles in her event, with two runner-up and one third-place finish. While the individual accomplishments are noteworthy, Smith says she gained most of her fulfillment from the challenge of leading her teammates to success.
"I had to treat individuals with respect from their perspective," Smith says. "Speak in the language of the listener and then listen in the language of the speaker. I had to interact with my teammates from their perspective. I had to understand how to be selfless and I believe I learned that in the residence halls."
After graduating with a Bachelor of Science in Psychology and Sociology in 1998, Smith's relationships led to her first job when Foster recommended that she apply for a residence hall manager position. She went on to work in Owen, Windsor and Young halls, as well as Purdue Village. In this capacity, Smith served as a leader to staff residents, who then supervised resident assistants who served as leaders in the residence hall community.
These foundational experiences laid the groundwork for Smith's success as a leadership consultant. She is the founder of The Coaching Seat, Leadership Strategy & Consulting, creator of the Champion Influence ® Coaching Certification Program, an inspirational speaker, business coach and author of both The Handbook to Unleash Your Potential and The Handbook to Dominate Your Confidence.
Smith's message to attendees focused on building relationships to lead, influencing others and building leadership DNA. Smith says there are three core roles one can play as part of developing leadership DNA – servers, converters and multipliers.
People who lead as servers tend to manage resources and connect people. For example, a server might ask someone who might not have a direct connection to an administrator to hand-deliver a report to someone in a director-level position to create that connection. Converters are people who include others in their work, perhaps by inviting colleagues to collaborate and sharing credit on projects. Finally, multipliers serve as formal mentors to other members of their organization or community. 
Relationships and influence form the core of each aspect of leadership DNA, which can be developed independently of a formal leadership structure.
"As leaders, it's not about the position – it's about how you move people to the next space in the organization or to their next position in life," Smith says. "Influence is a way to use our abilities as leaders to change a person's mind, character and behavior for the better, without force."
A student's journey towards being a leader can start with something as simple as having conversations with other people in their residence hall community.
"The first step is being able to listen and relate to people who are different than you," Smith says. "Once you're able to do that, you can find out what an individual needs, how you can help them and how they can help you."
Taking this first step can often be a challenge for students, particularly for those who are not outgoing. Smith emphasizes that it isn't the size of a person's network that matters, but the quality of the connection and relationships within that network.
"People who are introverted can still be intentional about checking in and creating these relationships without having to choose a lot of people," Smith says. "They can choose a couple of people, whether they're faculty, staff, professionals and leaders in the community, or their fellow students, to create the time to connect and build those relationships."
Smith's presentation at the leadership series engaged the audience, inviting attendees to respond to and ask questions as she moved around the room. Many of the students' questions centered on the concept of leading with humility, rather than a dictatorial approach.
Smith says she encourages anyone who wants to connect with students to take time to create in-depth connections – even if creating that time is challenging.
"It's one thing to say hello and have a connection – it's another to relate to someone in such a way that you can have an ongoing relationship, get lunch together or have a phone call once a month," Smith says.
Smith thanks Purdue University Residences, Purdue Athletics, the Epsilon Gamma Chapter of Sigma Gamma Rho Sorority, and Student Activities & Organizations for their roles in helping shape her into the leader she is today.