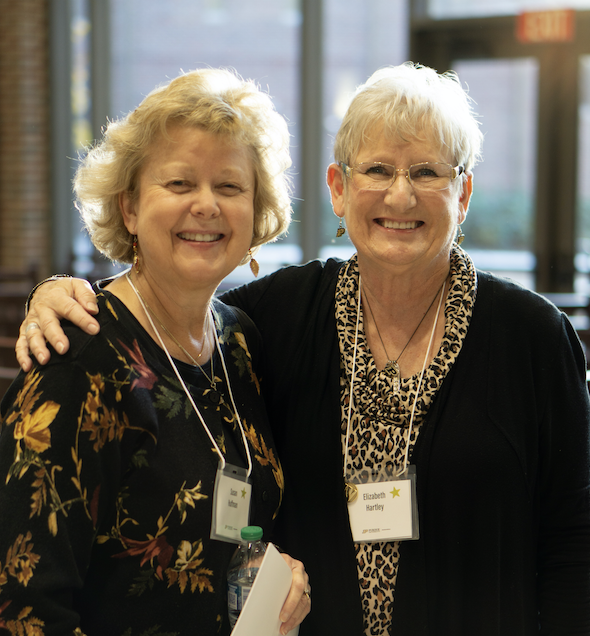 Elizabeth Hartley will retire at the end of February 2022 after nearly 30 years of service to University Residences, many of which have been spent creating connections between Boilermaker students, staff and alumni. 
"We all have a love for Purdue and it bonds you instantly," Hartley says. "I share that history with alumni. I was a student who lived on campus and in the residence halls for part of my time as a student and as I matured over the years, I grew to appreciate Purdue and the opportunities it provided me. It gave me the platform to talk about something I'm passionate about and other people are passionate about."
Hartley held numerous positions in Residential Life, beginning with an assistant manager position – approximately the equivalent of today's residence education coordinator (REC) position – in Meredith Hall. She also worked with students of Earhart, Shreve, Hillenbrand and Windsor Halls in various Residential Life capacities. For the past eight years, she has served as the director of alumni relations and engagement for University Residences, where she was instrumental in launching the University Residences Alumni and Guest Center.
Prior to the creation of the Alumni and Guest Center, University Residences lacked a centralized location to welcome students, families and alumni to campus. The idea to create such a dedicated space dates to Hartley's time in Windsor Halls, when she helped lead the 70th anniversary celebration of the halls after six years of extensive renovations. The anniversary celebration welcomed 400 Windsor alumni back to their campus home. The strong reception of alumni highlighted the deep feelings they have about their former residence halls.
"We wanted a stronger connection to our alumni because we saw with this Windsor celebration how people wanted to come back," Hartley says. "They wanted to see their hall and talk about their stories."
Upon accepting a role as associate director of alumni relations and engagement in 2014, Hartley led the creation of the Alumni and Guest Center from the ground up. The former main office of Cary Quad was quickly identified as the perfect location due in large part to its location in one of University Residences' iconic halls. She recruited and hired the first student tour staff and led the creation of many of the experiences visitors to University Residences enjoy today. 
A key part of Hartley's work with the Alumni and Guest Center was supervising and empowering the student staff, who helped shape operations and continue to lead tours. Numerous former student staff have directly applied lessons learned during their time at the Alumni and Guest Center to successful careers. Today, the Alumni and Guest Center serves as the home to all University Residences alumni and prospective student programming and tours.
"I've liked every job I've had here, but I think this has been my favorite," Hartley says. "It has fit my skill set and interests better than anything. It still gave me contact with today's students and helped me realize just how important they are to alumni. It was important to keep our finger on that pulse and have the building to connect alumni to our students, while developing our students into future alumni."
Hartley also helped found University Residences' Women's Leadership Series, a platform for women students, staff and alumni to connect, build confidence and grow professionally. The idea for the series was hatched after Hartley attended a women's leadership conference with other University Residences leaders, who decided to create a space for Purdue women to enjoy similar opportunities.
The series has highlighted the transformative power of leadership across generations. It isn't unusual to see a generation of alumni and staff connecting with their own mentors at the series, and in turn passing along that knowledge and their own experience to today's students. The series recently celebrated its 10th anniversary and has provided leadership building experiences for more than 1,000 women since its inception.
"It's really neat to see that legacy – and it is a legacy to the next generation," Hartley says. "Purdue has had some amazing people come through here and you see it when they come back for one of the leadership series' or Executive-in-Residence. All of those people were students who were very similar to those we have today. They had some trials and hard knocks, but they've been successful in so many ways."
No matter her role, working with students has been at the center of Hartley's love for her service to Purdue. She has developed many long-lasting relationships with students who have gone to become successful alumni. Working among students in the residence halls, Hartley says, kept her young and helped develop these treasured relationships.
"I think we're seen as a really strong resource," Hartley says. "I just love that we're right there and able to help them just by listening without judging. I think I even learned a lot from the students myself. 
Hartley cites Betty Nelson, dean of students emerita; Barb Frazee, assistance vice provost for Student Life; Carolyn Newlin, former student employment coordinator; and John Sautter, former vice president of Housing and Food Services as significant mentors and leaders who helped shape her time at the university. She says that she has particularly enjoyed working alongside University Residences' dedicated service staff, whose work is an essential part of the experience of students in their campus home. 
Hartley's time with University Residences has also provided opportunities to connect directly with Purdue's rich history. She has met astronauts, helped an author perform research for a book about Amelia Earhart due to Earhart's connections to Windsor Halls, uncovered and displayed artwork significant to the history of Windsor, and recently enjoyed meeting the families of Frieda and Winifred Parker for the dedication of Parker Halls. These experiences only deepened her connection to her alma mater.
"The deeper I got into the history of Purdue, the more I valued Purdue," Hartley says.
Hartley celebrated her retirement with colleagues during a reception at Hillenbrand Hall and concludes her service to the university February 28. She looks forward to spending time in her yard and with her husband, Daniel.