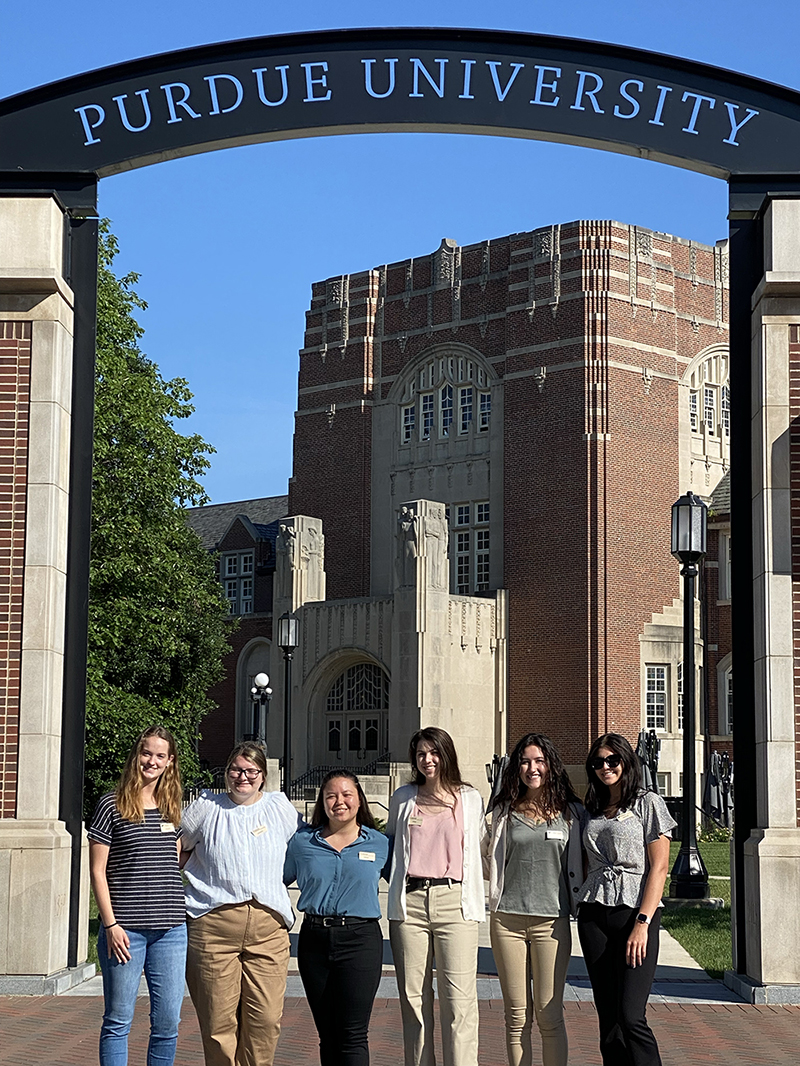 Purdue Dining & Culinary hosted six students from universities across the country for a 10-week summer food service internship, which provided participants with experiential learning opportunities on and off campus. 
Interns gained hands-on experience in Earhart Dining Court, where they worked and received training for every position up to dining court supervisor. The culmination of their work was a week of staff relief as dining court supervisors. The internship combined this experience with a series of lunch-and-learns with food service professionals and culinary expeditions, where students visited different organizations and businesses to learn about their operations.
Molly Winkeler, registered dietitian and one of the internship's coordinators, says the overall goal of the internship is to provide participating students with a variety of experiences while giving them something tangible to put on their resume.
"We capitalized on the resume building aspect of it by thinking about how we can show students all the ways they can use their degree in areas they might not be as familiar with," Winkeler said. 
Working in the dining courts teaches interns the various aspects of food production and provides opportunities to earn certifications and gain leadership experience. Interns completed certifications such as allergen training, ServSafe and even a knife certification.
For many interns, such as Purdue senior Kaitlan Tracy, serving as a supervisor was an eye-opening experience.
"We got to do a lot of observing of what a supervisor does in their role," Tracy said. "Not only are you in charge of work production, but you're also in charge of people. You've got to make sure everything is running smoothly, whether it's knowing who to schedule with each other on the same station or how to fix something." 
For Maddy Bates, a graduate student at the University of Wisconsin-Stout, the dining court experience was a confidence builder.
"I think people tend to sell themselves short and think they can't do something," Bates said. "Even with just a week's experience of being a supervisor, I now think I can do that. Without being able to be put into a role like that, given the experience and being told to go and do, I don't think I would be able to say I could be a supervisor."  
Interns said they developed numerous soft skills, particularly in relating to people with varying expectations, backgrounds, personalities and levels of experience. In difficult situations, Haley Gill, a senior from Bluffton University, said that members of the Dining & Culinary staff, such as Sierra Morin, culinary coordinator, helped restore confidence in their training and knowledge.
"Sierra told us to stick up for ourselves and I think that was a big takeaway," Gill said. "She told us we knew what we were doing, so be confident because we were where we were supposed to be."
Lunch-and-learns included visits with Sarah Johnson, former director of residential dining at Purdue, as well as a corporate dietitian from Taco Bell and numerous dietitians with varied experiences, including eating disorders, the prison system, private practices, 4-H and gluten-free products. The program also leveraged campus resources to provide interns with tours of the university's athletic dining facilities and meet with representatives from Purdue's coordinated program for dietetics.
Culinary expeditions took interns away from campus to various businesses and organizations. Expeditions included visits to US Foods, Wolf's Fine Handmade Chocolate, Gleaners Food Bank of Indiana, Albanese Candy Factory Outlet, Noble Coffee & Tea Company and The Homestead. Winkeler and Gretchen Jewell, associate director of auxiliary dining services and co-coordinator of the internship program, leveraged their networks as well as those of colleagues in Dining & Culinary to book visits. While the culinary expeditions created opportunities for the interns to have fun, the focuses of each trip were seeing what goes on behind the scenes, speaking to food service professionals and gaining exposure to a new part of the industry.